Our customers often ask us if we offer credit terms on wholesale fireworks orders. Fireworks resellers, in particular, want to know how they can pay for inventory after the fireworks season. While we do not directly offer financing or payment terms, we do accept PayPal as a payment option. Through PayPal, you can enjoy your fireworks now and pay for them later using PayPal Credit.
PayPal Credit
PayPal Credit offers no interest financing if you pay in full within 6 months on purchases of $99 or more. You can use it on all your purchases at Superior Fireworks up to your PayPal Credit limit. Please note that as of July 1, 2018, PayPal now requires minimum monthly payments to be made. PayPal makes it easy to manage your PayPal Credit account from either your computer or your mobile device. You can check your statements, make payments and more right from your PayPal account.
What makes PayPal Credit the perfect option for your fireworks purchases? The 4th of July and New Year's are 6 months apart, and you get 6 months of interest-free financing! This allows you to pay off your 4th of July purchase just in time to order for New Year's, making fireworks an easy addition to your monthly budget.
The Fine Print
We can't guarantee that you will qualify for financing with PayPal Credit or influence the amount of credit they offer. However, they will give you a credit decision in seconds after simply providing your income, birth date, and Social Security Number. If you are approved, PayPal Credit will be automatically added to your PayPal account. As of the last update to this article, there is no annual fee, the Annual Percentage Rate (APR) is 25.74% and the minimum interest charge is $2.00.
Take some time to review the program details on PayPal's website before deciding if this is the right option for you.
Getting Started
If you do not already have a PayPal Credit account, you will need to apply for one before you can use it to pay for your fireworks order. For more information, visit PayPal's website: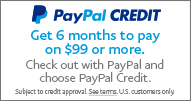 If you already have PayPal Credit, then what are you waiting for? Buy your wholesale fireworks now and pay for them later!
Update 11/5/2018: This article was updated to reflect PayPal discontinuing their No Payments + No Interest offer as of July 1, 2018. PayPal credit is still available; however, you will be required to make minimum monthly payments for any purchases made after July 1st 2018.