About Us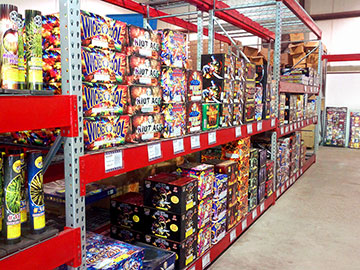 Superior Fireworks has been delivering the best in consumer fireworks at incredible prices every day since 2001.
We were founded with the idea that an online fireworks store could provide a superior shopping experience to the big fireworks franchises that operate near state lines across the country. We could eliminate overhead and consolidate operations to provide low prices without "Buy One Get One" sales gimmicks, and deliver products to your door instead of asking you to drive for hours to a store only to wait in long lines when you get there.
We knew there was a better way, and we built it. Welcome to Superior Fireworks.
We work hard every day to make sure that we offer the best products, prices, and service available. And we hand-pick our products, choosing to focus on the best in each category and price point so that you don't have to worry about whether you're going to get a cheap, poor-performing dud. We shoot these same fireworks at our own family gatherings, and take pride in the fact that our neighbors stop shooting off their fireworks as soon as we start shooting ours.
We're located just south of Orange Park, FL, a suburb of Jacksonville. In the weeks leading up to Independence Day and New Years, you're welcome to stop buy and browse our selection as we open up our warehouse to walk-in customers for a limited time. If you're not in the area, feel free to call us any time or shoot us an email if you have any questions or comments.
We look forward to continuing to serve you as we celebrate life's greatest moments with fireworks.
What others are saying:
"…Thank you for making the process easy and hassle free! Will and HAVE recommended you guys to customers of mine in my Etsy shop who look for sparklers daily. Great!"
- Diana, Allentown, PA
"This company is incredibly professional and timely. Product was ready sooner than estimated. Company contact and customer service is spectacular. GO WITH SUPERIOR!"
- Tim, Jacksonville, FL
"From order to delivery, outstanding! All around, good people to work with."
- Ken, Dover, DE
Contact Us
Superior Fireworks
1425 Blanding Blvd.
Orange Park, FL 32065
Phone: 904-213-0615
Fax: 866-232-8231
E-Mail: sales@superiorfireworks.com