Shells Per Pack: 24
Firing Tubes Included: 4
Description & Effects: Hammer of Thunder delivers 24 of the most powerful canister shells on the market, including 24 assorted effects with massive breaks.
Welcome to Superior Fireworks!
Welcome to Superior Fireworks' wholesale website! Here you will find all the products and information you need to start a tent or fundraiser, or build your own backyard fireworks show! You can buy wholesale fireworks online starting at only a $1,000 minimum order, with no account or sign-up required. We are open year-around, so you can place an order any time of the year!
You fireworks will be shipped via FedEx Freight for as little as $145, with live freight rates calculated in your shopping cart while you shop. Read more on our shipping information page.
Quantity Discounts Available!
| | |
| --- | --- |
| $1,500 - $3,499 | 5% |
| $3,500 - $5,999 | 10% |
| $6,000+ | 15% |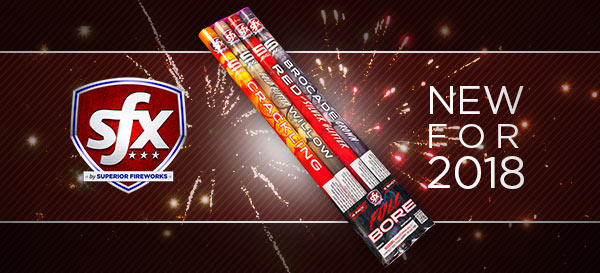 April 6, 2018
New for 2018: Full Bore Roman Candles
New for 2018, Full Bore Roman candles by SFX Fireworks are available now at Superior Fireworks. This set of four high-performance Roman candles delivers effects not typically found in the Roman candle category, including Brocade Crown, Red with Silver Glitter, Gold Glitter Willow and Crackling. Full Bore at a Glance Brand: SFX Fireworks Shots: 5 Each ... Read More »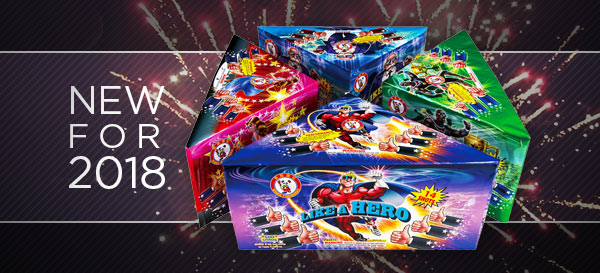 March 29, 2018
New for 2018: Amped Up
Amped Up is a case of four different 14-shot, 500-gram repeaters from Winda. You will love the firing pace and effect variety Amped Up offers. Like a Boss features brocade crowns, Like a Champ features green time rain, Like a Hero features gold willows and Like a Star features purple palms. Amped Up at a Glance ... Read More »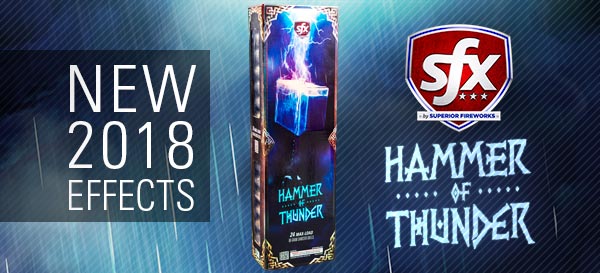 March 7, 2018
Updated for 2018: Hammer of Thunder Artillery Kit
As if Hammer of Thunder was not already amazing enough, SFX Fireworks has completely refreshed this 60-gram reloadable artillery kit for 2018. The previous version contained two each of 12 different effects. Now it features 24 unique, high-quality shells featuring truly premium effects! Hammer of Thunder at a Glance Brand: SFX Fireworks Shells/Breaks: 24/24 Category: Reloadable ... Read More »