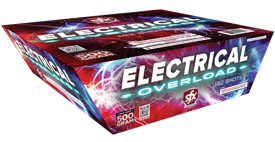 Shots: 182
Colors: Silver, Blue, Purple, Yellow
Description: Electrical Overload blasts 182 zig-zagging shots of crackling comets with blue, purple and yellow stars, finishing with a brocade crown finale.
Welcome to Superior Fireworks!
Welcome to Superior Fireworks' wholesale website! Here you will find all the products and information you need to start a tent or fundraiser, or build your own backyard fireworks show! You can buy wholesale fireworks online starting at only a $1,000 minimum order, with no account or sign-up required. We are open year-around, so you can place an order any time of the year!
You fireworks will be shipped via FedEx Freight for as little as $145, with live freight rates calculated in your shopping cart while you shop. Read more on our shipping information page.
Quantity Discounts Available!
| | |
| --- | --- |
| $1,500 - $3,499 | 5% |
| $3,500 - $5,999 | 10% |
| $6,000+ | 15% |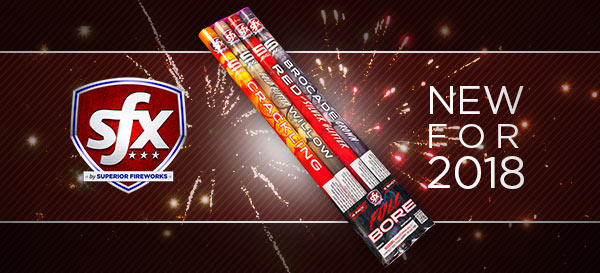 April 6, 2018
New for 2018: Full Bore Roman Candles
New for 2018, Full Bore Roman candles by SFX Fireworks are available now at Superior Fireworks. This set of four high-performance Roman candles delivers effects not typically found in the Roman candle category, including Brocade Crown, Red with Silver Glitter, Gold Glitter Willow and Crackling. Full Bore at a Glance Brand: SFX Fireworks Shots: 5 Each ... Read More »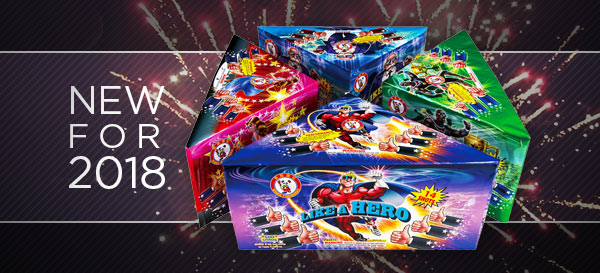 March 29, 2018
New for 2018: Amped Up
Amped Up is a case of four different 14-shot, 500-gram repeaters from Winda. You will love the firing pace and effect variety Amped Up offers. Like a Boss features brocade crowns, Like a Champ features green time rain, Like a Hero features gold willows and Like a Star features purple palms. Amped Up at a Glance ... Read More »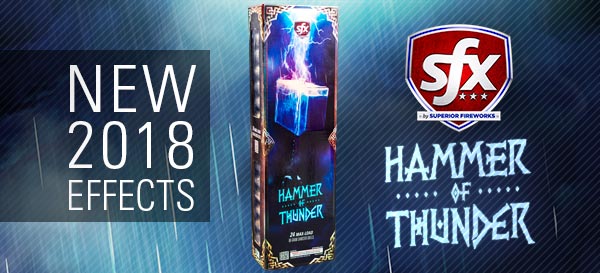 March 7, 2018
Updated for 2018: Hammer of Thunder Artillery Kit
As if Hammer of Thunder was not already amazing enough, SFX Fireworks has completely refreshed this 60-gram reloadable artillery kit for 2018. The previous version contained two each of 12 different effects. Now it features 24 unique, high-quality shells featuring truly premium effects! Hammer of Thunder at a Glance Brand: SFX Fireworks Shells/Breaks: 24/24 Category: Reloadable ... Read More »