The new year always brings good tidings to fireworks pros and amateurs.
Why? Because a new year means new products….stuff you haven't seen before and stuff you've always wanted to see.
Over the next few months, we're going to give you in-depth looks at our newest products from SFX Fireworks, our own private label. If you didn't hear about the recent SFX launch, click here to read our post about it.
Each review will take a look at what the firework does, why we chose it, how much it costs and more. This week's newcomer? Immortals, our quartet of 500-gram repeaters named after four epic Greek gods.
Immortals: Raining Down Fury from Mt. Olympus
Zeus, Helios, Prometheus and Poseidon: four 9-shot repeaters with legendary names that really represent what this new addition to our product line is all about.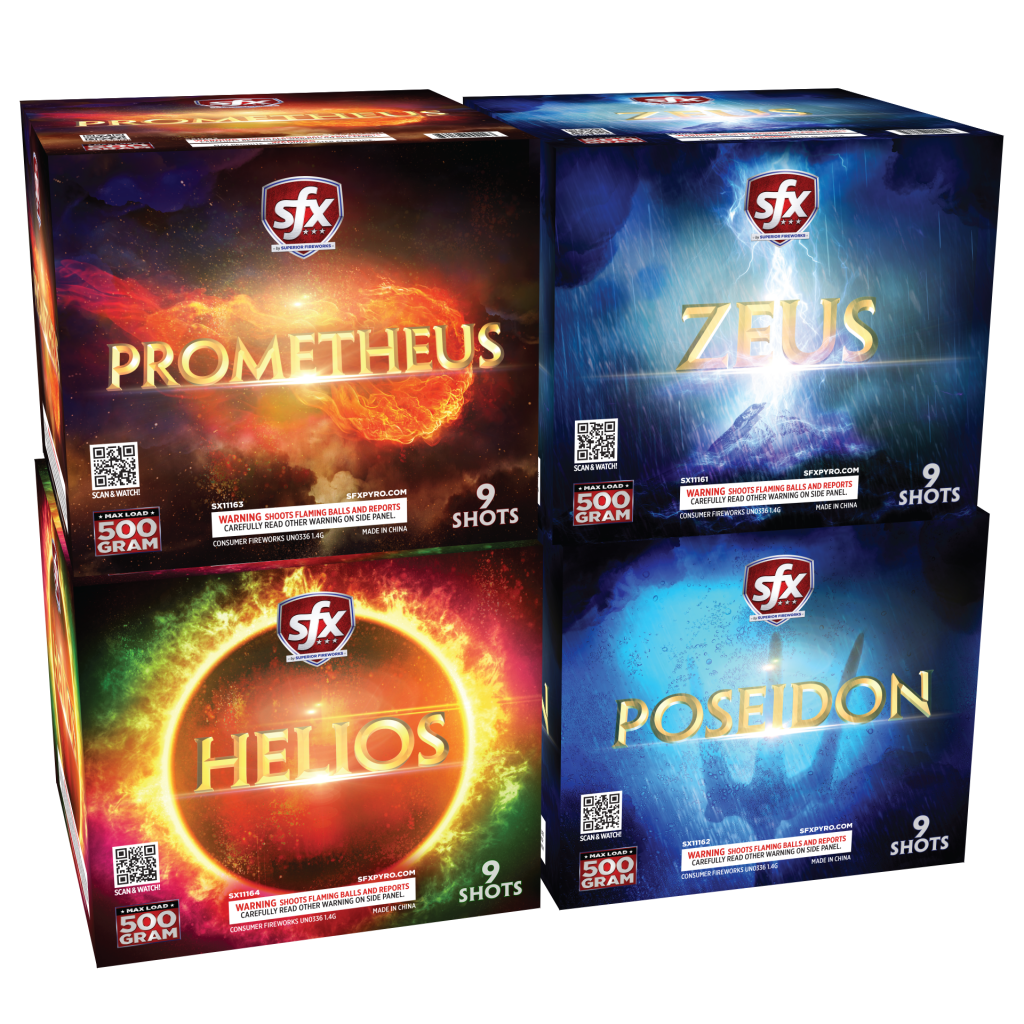 As a four-pack, Immortals offers great shelf appeal for resellers because of their professional package design. They stand out. And you can sell them as a single-SKU pack of four or as individual SKU's.
Design aside, it's important to know how these perform, right? That's why we've included a video of each cake's effects. You can check them out here:
As you can see, you get big sound, beautiful effects, tons of color and a three-shot finale for each cake. Here's an individual breakdown of each nine-shot, 500-gram Immortal:
Zeus — Three alternating effects: Blue-to-red peony with a crackling pistil, red pistil in a glittering brocade and a blue-to-green peony with a crackling pistil.
Prometheus — Blue mines to golden palms, three different pistils – blue, red and crackling.
Poseidon — Blue mine to peach, lemon and purple peony; lemon mine to peach, lemon and green peony.
Helios — Trio of crackling mines-to-chrysantemum in green, purple and pink.
Looking Ahead to More New Products
SFX Fireworks is our favorite brand for obvious reasons, but that doesn't mean we don't respect other brands like Cutting Edge, Brothers and World Class. We think they're three of the most reliable companies out there and that's why they're on our shelves.
As we move forward in our new products series, we're going to cover fireworks from each of these companies in addition to SFX. You've got a lot to look forward too, so make sure you check back with us every couple of days for new posts.
In the meantime, don't forget to cash in on your early order discounts. Save 10% on orders made by February 28!