Note: Today's post includes ideas for shooting multiple fireworks together. However, we never advise hand-lighting multiple fuses in a row. Always connect items in advance and only light one fuse, or use a firing system.
There's nothing quite like the thrill and satisfaction of shooting your own backyard fireworks show.
Your friends and family skip the town fireworks display knowing that you'll give them a show they won't forget. It's the culmination of hours of careful planning, tedious preparation and years of experience, and the result is a few precious minutes of pyrotechnic glory.
Creating the perfect fireworks show at your own family gathering might seem like an impossible task. However, there are some fundamental concepts that can help you succeed regardless of your experience level or your budget.
We reach out to our customers after every season to get their feedback about our products, and we often get detailed notes about how they are used. What follows is not just our opinion, but insight from other pyros who use these products every year to build their own amazing shows.
A successful fireworks show balances several key factors, and we want to walk through them one at a time.
Pacing Your Show
You don't have a fireworks show just because you are lighting off 10 items at once. That's certainly impressive as a grand finale, but there should be a journey along the way to that conclusion.
The start of your show needs to grab your audience's attention. Several customers have mentioned that they really like the Amazing fountain for a show starter, and one even said he used a full case of 6 all at once! The effect on this one is huge for a fountain, so it's no wonder that this would work well here.
Tips from a Superior Fireworks Customer
Matt Medley shared on Facebook that he likes to start his shows with either Peacock or mines. Either option is excellent, and Peacock in particular has an awesome impact, launching a wall of fire into the sky!
Here's an example of what the Peacock does:
Moving through your show, create a progression by starting with smaller items and working toward larger ones. 200-gram repeaters can offer great performances, and are an inexpensive way to add some excitement to the first phase of your show.
You can shoot some items by themselves, and pair others together for greater impact. We'll look at how to find good product pairings in a moment, but the important thing is to give your show's intensity some ebb and flow.
For instance, break up the first few minutes by letting some high-end shells stand alone. Their report and brilliance are big enough to carry a few seconds of the show on their own. It also gives the audience a break from the constant sound and colors of mines like the Peacocks we mentioned earlier.
Pairing the Right Products and Effects
Fireworks are just as much an art as a science.
Certain colors and effects work well together and create nice moments in your show. You don't just want more visual noise in the sky; you want complementary effects, shot patterns, and colors.
One of the best places to get ideas for pairings are reviews, like the ones you find on our site. Here are three reviews we pulled from our 500-gram repeater category…they'll give you an idea of how to pair together different types of fireworks like cakes, finale racks and mines.
Scuba Diver + Get Some (500-gram repeaters)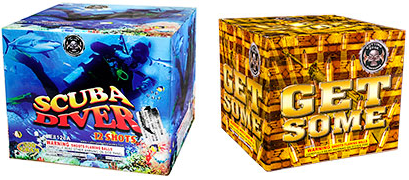 "We tried [Get Some] with Scuba Diver for a nice brocade show, but you can also support it with a few brocade shots from the AR15 canister series. Either way the crowd will love it." – Scott; Madison, Wisc.
We've included videos of Get Some and Scuba Diver to give you an idea of how this combination would look. Just remember that Scuba Diver lasts a little longer than Get Some, so you'll want to light it first unless it's fine to overlap into the next part of your show.
Extreme Machine + Grave Digger + Fighting Rooster (500-gram repeaters)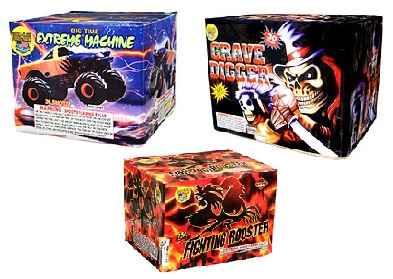 "[Extreme Machine] has become my favorite since I first got it last 4th of July 2013. Although it makes a great finale on its own I use it with Fighting Rooster and Grave Digger to light up the whole block. Especially if you get 4 of each. This one will always be first on my list."  – Hector; Cocoa, Fla.
Survival of the Fittest + Absolute Evil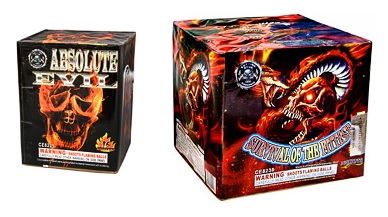 "Mix [Survival of the Fittest] with a couple 200-gram cakes to fill the sky with color. Mixes perfect with 'Absolute Evil'. If you like loud breaks this is the cake for you!" – David; Naples, Fla.
This last example is a great one because it includes the Survival 500-gram repeater and the Absolute 200-gram repeater. The smaller cake doesn't have the same elevation as the bigger one, so you get a two-level effect on your breaks: one high, one low. That's a really great way to add some shape and diversity to your show.
Other great ways to build your show
Add classic combinations like mines with 500-gram cakes that give big peony or brocade effects over the mine's low-altitude stars, strobes and crackles.
Another thing to consider is color. This is where you can let your creativity run wild, painting the sky with different colors throughout your show. You can pair items with complementary color schemes to create a theme (like red, white and blue), and go with completely different colors to add variety.
The best way to plan these combinations is to read product descriptions carefully. Also, watch fireworks videos on our website or even YouTube to get a good sense of how each product performs. These habits will help you determine which items can stand alone and which ones might work well together to create nice moments in your show.
Thinking through why you're shooting certain products together will take your show to the next level. You and your audience will appreciate the difference, even if they can't put their finger on exactly why it was so good.
Nailing the Finale
This is the part where you finally get to unleash chaos and light up the sky with everything left in your arsenal. But even in your finale, you can take steps to ensure that it's more than just an indiscernible mashup of light and sound. The same principles of pacing and complementary effects still apply.
Quick note: Finale racks tend to have the biggest and loudest effects because they've got 500 grams of material in nine shots, giving maximum impact per shot. Most 500-gram repeaters spread that powder out over more shots or a bigger variety of effects, and the compromise is that each effect is slightly smaller or less powerful. As a result, you'll see a pretty big price difference between finale racks and most 500-gram repeaters.
Here's a video of SFX's Majestic Brocades…it's a great example of the power and altitude these finale racks can add to your show:
Fill Up the Sky
For starters, you'll want to use as much of the sky as possible. This fills your audience's field of vision, spreads out the smoke and gives more definition to each product. Place your products wide across your shoot site, and include cakes with angled firing patterns.
Use products of different sizes to put breaks at different altitudes, and be sure to include mines for low-level action. Your finale racks and artillery shells will go the highest and break the hardest, so mix these in throughout your finale. A barrage of shells also puts a nice exclamation point at the very end of your show.
Timing
The hardest part of the finale is timing everything to end at the same time. Get the best information you can about each item's duration and try to stagger lighting products so that they end together. You'll probably have stragglers, but even professional shows need to shoot off a few unused shells after the finale.
Duration
Keep the finale short and sweet. You'll probably end up around a minute, which is a good amount. You might be surprised at how many fireworks it takes to pull that off, so don't get carried away on total duration until you get some experience with a few shows first.
Study Up on How the Pros Do It
A great way to understand how pacing, product combinations and finales work is to watch videos of fireworks shows.
One of our favorite places to go for show ideas and to learn about new equipment and product is Pyro Talk, an online fireworks community with a fantastic "Backyard Fireworks Show" section. The page has dozens of videos of fireworks enthusiasts setting up small and big fireworks shows.
Also, YouTube is home to an endless collection of show videos from celebrations all around the world. Although some professional-grade fireworks effects and shell designs are not available for consumers, you can still get great ideas for pacing, color combinations, and pairing effects.
Conclusion
The whole point of putting on your own fireworks show is to have a good time, to put smiles on the faces of your friends and family and to enjoy an evening together.
So be creative with your shows, find your favorite products and don't be afraid to try new arrivals. Always review a product's performance video before buying it. Remember, creating your own show is as much an art as it is a science.