Nothing says America like apple pie, the Fourth of July and fireworks.
Fireworks have been at the heart of American celebrations since the very beginning, and have lit up official Independence Day commemorations since 1777. Today, they connect us with that first spark of the American spirit, the common thread of core values that has inspired generations to champion life, liberty and the pursuit of happiness.
In the spirit of this rich heritage, we're excited to announce The Great American Fireworks Co., a new brand of consumer fireworks launching Feb. 1, 2017.
The Great American Fireworks Co. Introduces Value and Quality
Some fireworks brands specialize in premium products at premium prices, while others are always trying to offer the cheapest price while reliability suffers. The Great American Fireworks Co. strikes the perfect balance of value and quality.
Each Great American item will be offered at a competitive price point without sacrificing performance.
While the products in this line can make any level of fireworks enthusiast happy, we've specifically designed them for the average person who may not build much of a stash around July 4th but wants great performance at reasonable prices.
A Sneak Peek at a Few Great American Fireworks Products
Because our SFX Fireworks brand is a premium line, you won't see SFX missile batteries, snaps, sparklers or firecrackers. There's not really a "premium" tier for these items, so they aren't a good fit for a premium-tier brand.
The Great American Fireworks Co. is our chance to present those products to our consumers and resellers. This is a full-line brand that will give you access to a complete selection of novelties, repeaters and shells you can use to round out your backyard show or fill up your store tables and shelves.
GAFC's product line includes snaps, sparklers, aerial spinners, Saturn missile batteries, firecrackers, fountains and other staples you'll love.
We're also offering great repeater and shell packages that can add some boom to your fireworks lineup.
Spirit of America: A 200-Gram Repeater Assortment
Choosing repeaters at a fireworks store is fun, but sometimes the choices can be overwhelming. This is even harder for wholesale consumers, because a case of 200-gram repeaters has way too many of the same item to be enjoyable.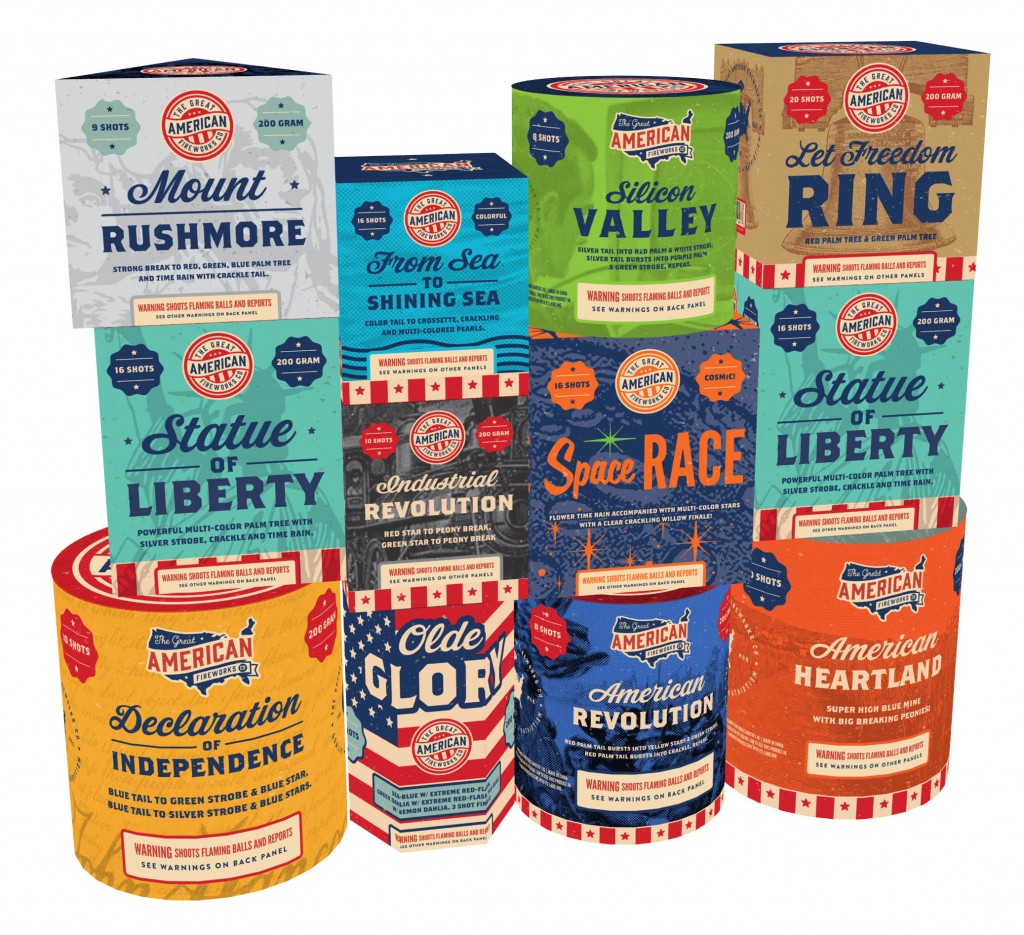 Spirit of America is different — each case includes 11 different repeaters (12 total) all featuring our cool vintage design and quality effects that provide you tons of value and variety.
For our wholesale consumers, this is immediately a big deal. We expect these to appear on nearly every order.
For resellers, we've packaged this as an attractive assortment that makes it easy for your customers to put on an awesome backyard show without breaking the budget.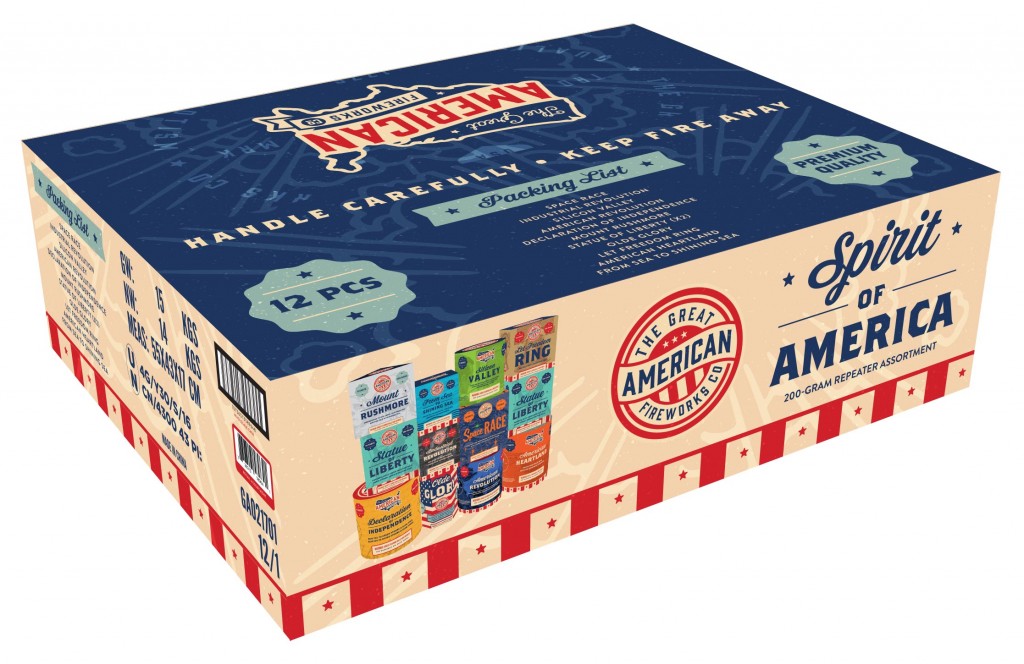 Heavy Ordinance: 12 Big Shells at a Not-So-Big Price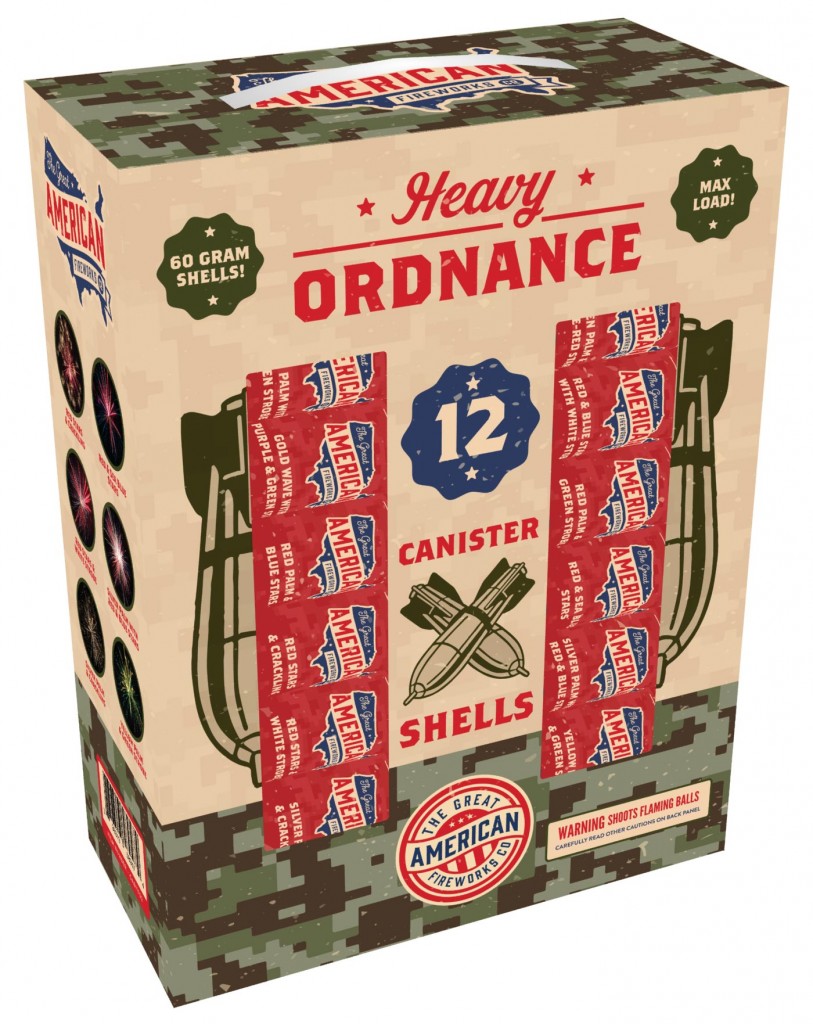 Premium 60-gram artillery shells are a big draw during fireworks season because they've got huge reports and amazing effects. We love them, but they can become cost-prohibitive for some consumers. Many of the most popular kits contain 24 or more shells and carry premium price tags.
We created a solution for this problem in the form of Heavy Ordinance, The Great American Fireworks Co.'s 12-pack of 60-gram artillery shells.
The effects you get with these shells will give anyone else's a run for their money, and the 12-shell size is perfect for resellers who want to add another element to their artillery shell line-up.
We Can't Wait for February 1st!
As the launch date for The Great American Fireworks Co. gets closer, we'll add a few more posts about products within the line.
Come back and visit our blog for more details, or just sign up for our email list (right side, blue "Subscribe button) and we'll send you an email when a new post goes live.