Container Load Blue is new for 2018 and will add incredible BOOM to your next fireworks celebration! This is a mixed-case assortment of four different 12-shot, 500-gram repeaters from Winda, including Reach For The Sky, Super Kung Fu, Super Stunt, and War Stopper.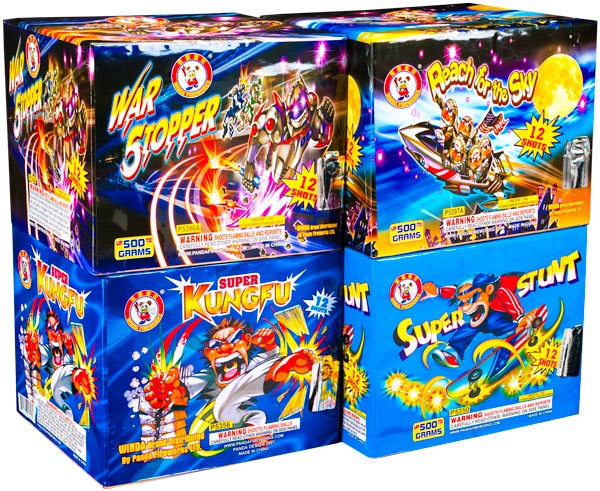 Container Load Blue at a Glance

Brand:

Winda

Shots:

12 each

Category:

500-Gram Repeater

 Avg Duration:

30 Seconds

Wholesale Price:

$116.53

Avg Height:

150 Feet

Wholesale Case Qty:

4

Colors:

Blue, Gold, Green, Purple, Red, Silver

Retail Price:

$179.79

Angle:

Effect Description:

Reach For The Sky: Brocades with red and green tips with strobe and time rain cores.
Super Stunt: Red, green, silver and gold waves.
War Stopper: Crackling tails that break into peach, green, and blue peonies with strobe pistils.
Super Kung Fu: Willows of silver, gold and green with strobe.
Container Load Blue Video
BIG Booms Plus Mixed-Case Variety
This set features some of the largest, hardest hitting breaks we have seen from a case of 12-shot, 500-gram repeaters. These repeaters nearly rival 9-shot finale racks in terms of break size and loudness. Each of the four repeaters has a similar shot pattern and firing cadence. However, thanks to the mixed-case packaging, they vary in colors and effects. Trust us, this set will leave your audience in awe as their large, thunderous breaks fill the night sky.
Container Load Blue is available for just $116.53 each at wholesale or $179.99 each at retail.
More New Fireworks for 2018
Container Load Blue is just one of the nearly two dozen new products we added to our catalog this year to help make your Memorial Day and 4th of July fireworks shows the best ever. Many of these products were revealed on our blog this past fall as early arrivals and we will continue to highlight more new products throughout the spring. Be sure to follow us on our blog and social media channels for the latest information.
For a complete list of what's new for 2018, wholesale customers can shop the New for 2018 page on our wholesale website. Local customers shopping in our store can see up-to-date pricing and availability on our New for 2018 Retail page.