New for 2018, Full Bore Roman candles by SFX Fireworks are available now at Superior Fireworks. This set of four high-performance Roman candles delivers effects not typically found in the Roman candle category, including Brocade Crown, Red with Silver Glitter, Gold Glitter Willow and Crackling.
Full Bore at a Glance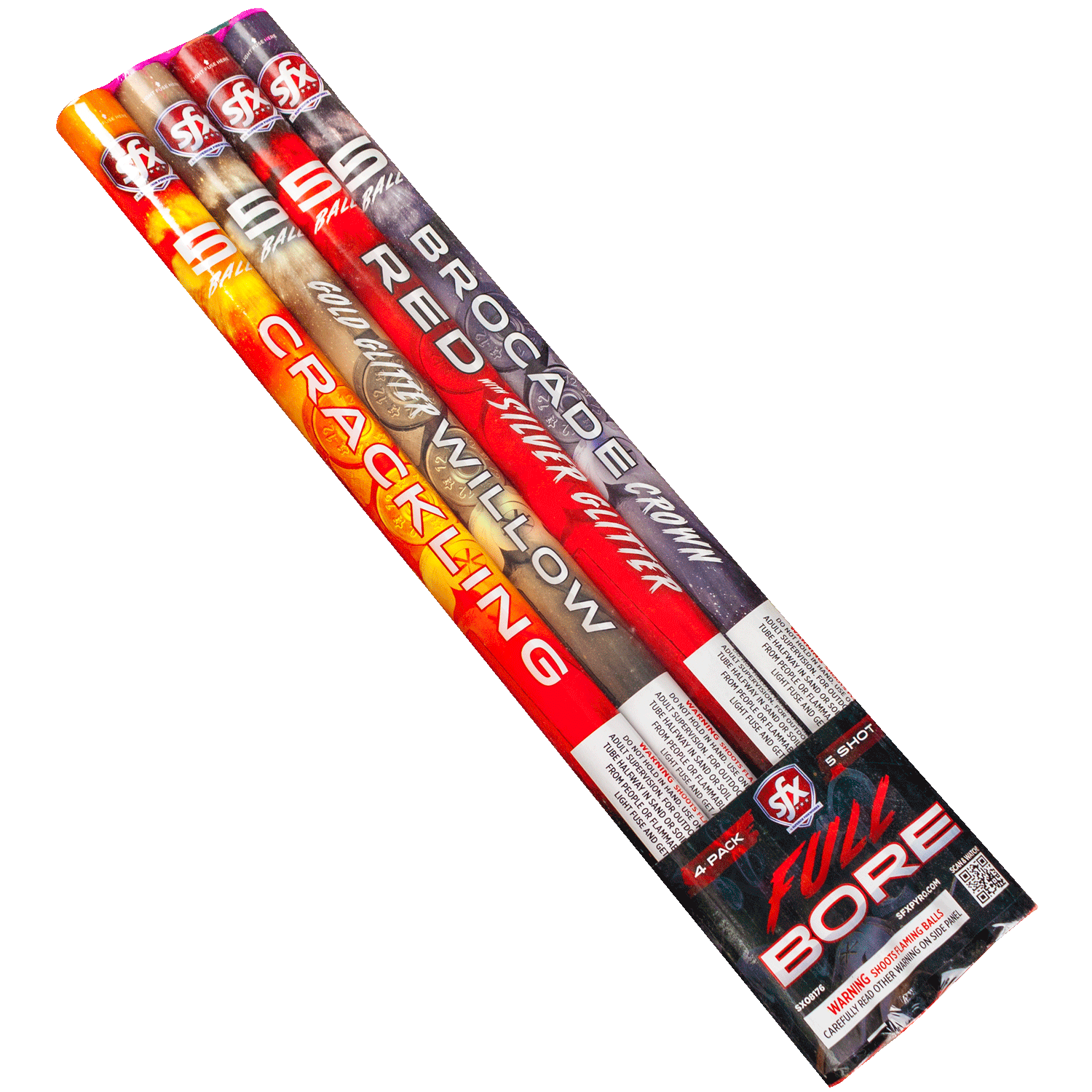 Brand:

SFX Fireworks

Shots:

5 Each Candle

Category:

Roman Candle

Duration:

20 Seconds Each (Approximately)

Wholesale Price:

$59.26

Avg Height:

50-80 feet

Wholesale Case Qty:

18

Colors:

Red, Gold, Silver

Retail Price:

$6.58

Angle:

N/A
Effect Description:

Each candle fires five shots of four different effects, including: Brocade Crown, Red with Silver Glitter, Gold Glitter Willow and Crackling.
Full Bore Video
Roman Candles, SFX Fireworks Style!
Leave it to SFX Fireworks to turn something as simple as a Roman candle into something awesome! These Roman candles will leave the block speechless as they fire shot after shot of amazing effects usually found in repeaters. In fact, using some fuse and a Roman candle rack, you could mix and match these candles to create your own custom repeater! Even more awesome is the price at just $6.58 for a set of four candles at retail or $59.26 for a case of 18 packs of four at wholesale.
More New-for-2018 Fireworks
We have added over two dozen new products to our catalog this year to help make your Memorial Day and 4th of July fireworks shows the best ever. Many of these products were revealed on our blog this past fall as early arrivals and we will continue to highlight more new products throughout the spring. Be sure to follow us on our blog and social media channels for the latest information.
For a complete list of what is new for 2018, retail customers can shop the New for 2018 Retail page and wholesale customers can visit our New for 2018 Wholesale page.