Downtown Display is new for 2019 and has arrived early in time for New Years! This 24-shot, 500-gram repeater by SFX Fireworks starts with a fanned barrage of golden tails that break into colorful brocades. Three volleys of golden mines then fire a spread of colorful, glittering peonies before a crackling finish. Downtown Display is available now at Superior Fireworks!
Downtown Display at a Glance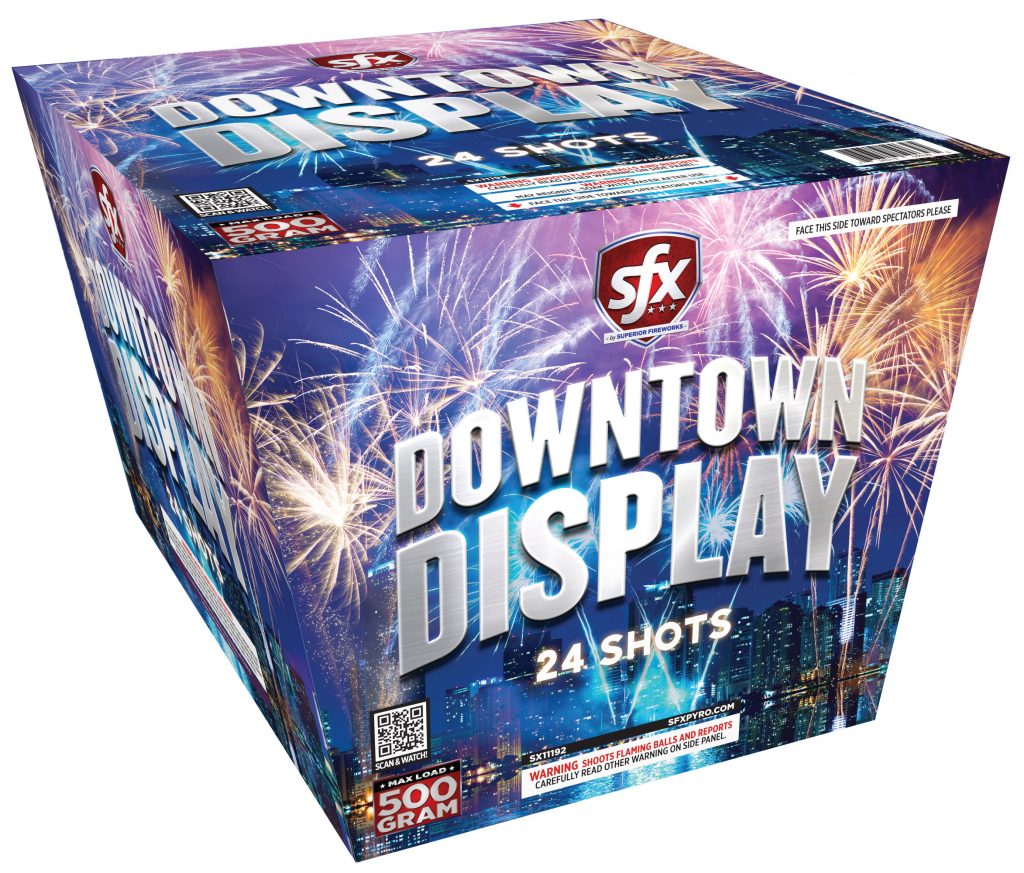 Brand:

SFX Fireworks

Shots:

24

Category:

500-Gram Repeater

 Avg Duration:

20 Seconds

Wholesale Price:

$99.75

Avg Height:

120 Feet

Wholesale Case Qty:

4
Colors:
Gold, Purple, Green, Blue, Red

Retail Price:

$46.41

Angle:

Effect Description: Downtown Display kicks off the show with a Z pattern of 12 gold comet tails to brocades with red, green, and blue stars, followed by blasts of brocade mines to glittering peonies with colorful stars.
Downtown Display Video
Kick Your Display Up A Notch
You will love the excitement and vibrancy this repeater brings to your backyard fireworks display. There is something to watch the entire time it is firing from the golden tails and mines to the colorful, glittering breaks. Try firing two of these side-by-side to completely fill the sky with non-stop action. Your audience will think they are watching a professional display without having to fight the crowd downtown!
Downtown Display is available for just $99.75 at wholesale or $46.41 at retail.
Stay Tuned for More 2019 Early Arrivals
Downtown Display is just one of the many exciting new products we are adding to our catalog in 2019 and several more early arrivals will be here soon. Follow our blog and social media channels to be the first to see more new-for-2019 fireworks!