Join us for our New Year's Early Sale to get the lowest prices on all of your favorite fireworks for your New Year's celebration. For a limited time, our entire store is 20% off, plus you can find Red Tag specials throughout the store that are 40% off their normal prices! You can also shop online 24 hours a day, then pick up your order when you are ready.
20% off Storewide or 35% off for Military and First Responders
During our New Year's Early Sale, the entire store is 20% off! That's right–the entire store. You don't need any coupons and there are no exceptions or limits as to what or how much you can buy. Plus, if you present a valid military or first responder ID at the time of purchase, your savings jump to 35% off of your entire purchase!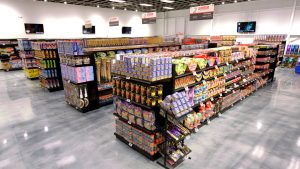 40% Off Red Tag Specials
As if the storewide savings weren't enough, we are also offering Red Tag specials, saving you 40% off their regular price. These deeply discounted items are only available while supplies last, so shop early to secure these fantastic deals. Below are just a few examples of the great items on Red Tag this season. You can find the complete list of the Reg Tag specials here.
Due to the deeply discounted nature of our Reg Tag specials, we are not able to stack additional discounts with these items such as our 15% military discount.
Be the First to get New Products
Shopping early also gives you the best selection on several new for 2019 items that will arrive early in time for New Year's. Some of these items are available now, others will arrive around December 12th.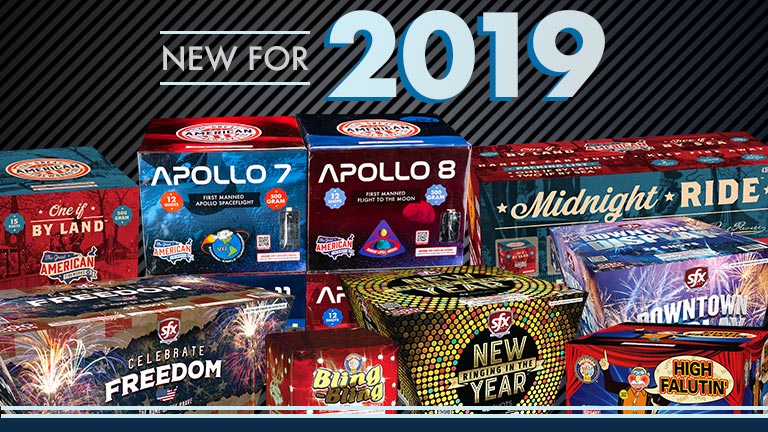 Available Now
Apollo: a mixed case set of four hard-hitting, 12-shot, 500-gram repeaters from The Great American Fireworks Co. Each repeater features everyone's favorite firework effect, the willow.
Downtown Display: a 24-shot, 500-gram repeater from SFX Fireworks. Features a Z pattern of 12 gold comet tails to brocades with red, green, and blue stars, followed by blasts of brocade mines to glittering peonies with colorful stars.
Bling Bling: a 36-shot, 200-gram repeater from Brothers. Starts with several barrages of whistling snakes and fish with purple, red, blue and white stars. That's followed by red and green bouquets with time delay crackle and a 6-shot finale of crackling palms.
High Falutin': a 49-shot, 500-gram repeater from Brothers. Fires a display of red, green and blue tails to red, green and blue bouquets, alternating with silver, gold and purple tails to silver glitter, gold willows or crackling. Crackling comet tails are followed by a 14-shot finale of crackling tails to crackling flowers.
Expected Mid-December
Celebrate Freedom: a 42-shot, 500-gram repeater from SFX Fireworks. Feature multi-layered mine effects including gold crackle and glitter with red, white, and blue stars; followed by comet tails to aerial breaks of gold brocades with glitter and chrysanthemum crackle.
One If by Land: a hard-hitting, 15-shot, 500-gram repeater from The Great American Fireworks Co. that fires fine, golden palms with touches of green strobe, crackling, white strobe, and sky blue stars.
Midnight Ride: this set combines the new 500-gram repeater One If by Land with Two If by Sea, completing the famous tale of Paul Revere!
Ringing in the New Year: a 42-shot, 500-gram repeater from SFX Fireworks. Fills the sky with angled shots of red and blue with white glitter, followed by mine bursts of swirling, whistling tails with red, green, and blue stars to aerial breaks of pink, purple, and green with gold crackle before finishing with sizzling red, green, and blue palms.
Seasonal Store Hours
We will be open our normal store hours Monday through Friday from 10 am to 7 pm and Saturdays from 11 am to 6 pm through Saturday, December 22nd. We will be closed from December 23rd through December 25th for the Christmas holiday. When we return on Wednesday, December 26th, we will be open from 9 am to 9 pm every day through December 31st.
Start Your Planning Now
To help you plan your visit with us, we recommend creating a wish list on our website with the items you want to purchase. From there you can either print out your wish list to come into the store or move the items to your online shopping cart to buy online. It's an easy way to browse our full selection, watch videos, and choose your favorites.
And remember, our New Year's Early Sale is for a limited time only, so shop today to take advantage of these great deals!