If you've been putting off placing your wholesale fireworks order, don't wait any longer! Now through May 31, we're giving you 30% off a collection of fantastic products as part of our spring Wholesale Clearance Sale! The 4th of July is rapidly approaching and we've booked a flurry of inbound shipments, which means we need to clear out some inventory to make room in our warehouse. Take advantage of this limited-time opportunity to snatch up some great deals on a wide range of fireworks.
Save 30% on These Great Fireworks
Our product team picked out 21 items that are holding up valuable spots in our warehouse. We only carry great fireworks, so don't let the fact that these are on a "clearance" sale scare you off. Some are being discontinued, some just need to clear out the rest of last year's production run, and frankly, some have just been moving slowly and need a little attention to stand out from the crowd. Regardless of the reason, we have fireworks on sale in nearly every category and you'll want to take a good look and all of them.
Most Wanted — Now Only $71.12/Case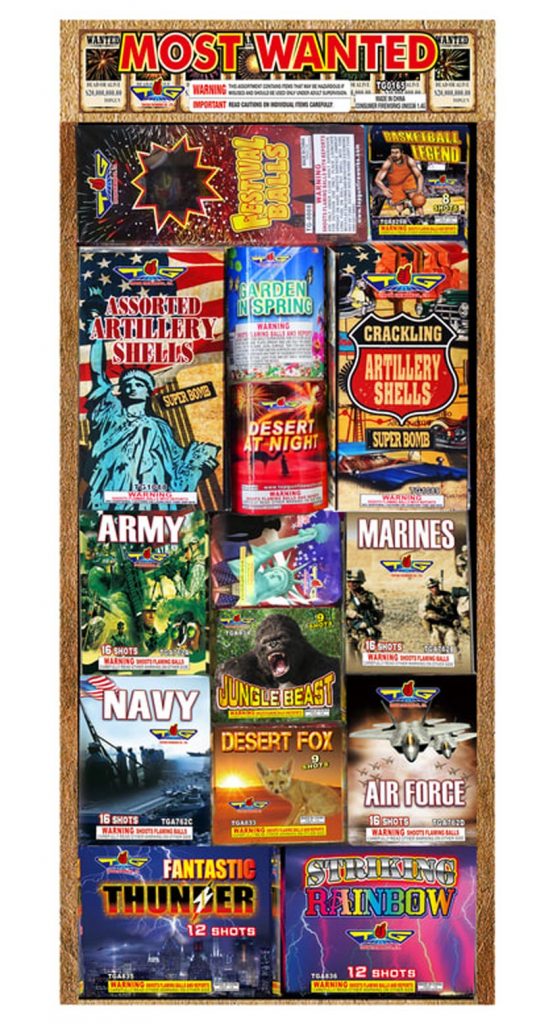 Most Wanted skips the filler and jumps straight to the repeaters and artillery shells. At a sale price of only $71 and only one per case, there's no reason not to want it.
Game Over — Now Only 
$68.81/Case
Game Over is actually one of our favorite new items in our new 350-Gram Repeaters category this year. Its performance delivers low-, mid-, and high-level effects along with a V-shaped shot pattern to really fill the sky!
Container Load Blue is a fantastic mixed set from Winda. It includes 4 powerful, 12-shot repeaters that you can't overlook, especially at this clearance price.
Knuckle Sandwich is hard-hitting 200-gram repeater with lots of color, glitter, and variety in its 20-second performance.
And So Many More!
These are just a few examples of the great deals to be had during our spring Wholesale Clearance Sale. Take time to browse the entire list of sale items and be sure to add them to your order for incredible savings!
The Fine Print
Available quantities are limited to our stock on hand, so order your favorite Wholesale Clearance Sale items now! This offer is not valid on your previous purchases. You must order your Wholesale Clearance Sale items by 11:59:59 pm ET on Friday, May 31st to receive the 30% discount on these items. Your order must still meet the $1,000 wholesale order minimum and other wholesale order requirements. Due to the deep 30% discount on these clearance items, they are not eligible for any quantity, reseller, or other discounts. If you have any other questions, feel free to email us at sales@superiorfireworks.com or give us a call at 904-213-0615.