Our New Year's Early Sale is happening now! Stop by to get the lowest prices on all of your favorite fireworks for your New Year's celebration. For a limited time only, everything is on sale in our fireworks store in Orange Park, FL — some items are even up to 40% off! This is your best chance to get huge savings on your New Year's fireworks celebration.
20% Off Storewide
During our New Years Early Sale, get 20% off our entire fireworks selection! Reloadable shells, aerial repeaters, Roman candles, you name it! The entire store will be at least 20% off.
And remember, our prices are already way better than the places that offer "BOGO" deals, so this extra 20% really takes the savings to a whole new level.
Plus 15% Off Storewide for Military, Police, and Firefighters
As always, we're honoring our military, police, and firefighters with an extra 15% discount, for up to 35% off storewide! Make sure to bring valid identification and present it at checkout to take advantage of this deal.
40% Off Red Tags
Don't forget about our special Red Tag items marked 40% off. This is the biggest opportunity to save, and you'll find them all throughout the store!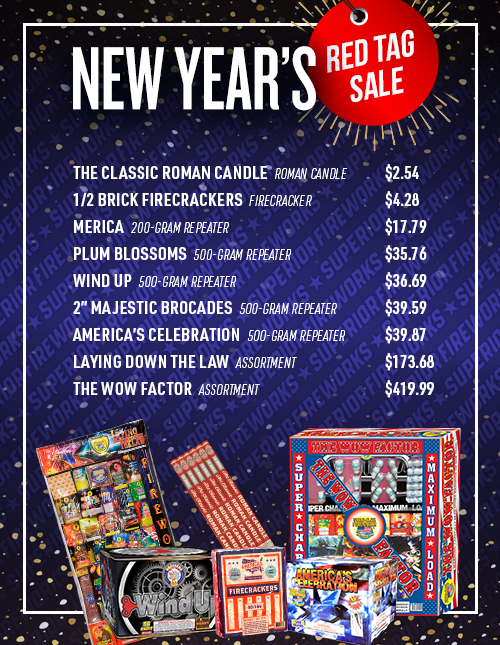 These items are first-come, first-serve and are always extremely popular. Shop early to take advantage of these incredible sale items.
Start Planning Today
Shop in our store in Orange Park, FL or on our website for convenient pickup. Online shopping is an easy way to browse our full selection, watch videos, and choose your favorites. The sale is happening now and it's for a limited time only, so what are you waiting for? Start shopping today to take advantage of our New Year's Early Sale before it's too late!
Seasonal Store Hours
We will be open our normal store hours Monday through Friday from 10 a.m. to 7 p.m. and Saturdays from 11 a.m. to 6 p.m. through Wednesday, December 23rd. We will be closed December 24th and December 25th for the Christmas holiday. When we return on Saturday, December 26th, we will be open from 9 a.m. to 9 p.m. every day through December 31st, with limited hours on January 1, 11 a.m. to 6 p.m.
Visit our website to plan your New Years fireworks shopping today!