Fireworks season is here at our fireworks store in Orange Park, FL and the 4th of July will be here before we know it! There's still time to shop early to beat the crowds and save money during our July 4th Early Sale, happening right now.
20% Off Storewide
For a limited time, everything in our store is at least 20% off! From artillery shells and aerial repeaters, to Roman candles, and even assortments, we mean everything! There are no coupons required, no exceptions, no limits, and we don't even make you buy a gift card! We keep it simple with 20% off all your favorite fireworks.
And remember, our prices are already way better than the places that offer "BOGO" deals (and run those promotions that require buying gift cards), so this extra 20% really takes the savings to a whole new level!
35% Off Storewide for Military, Police, and Firefighters
The savings get even better for our military, police, and firefighters, with an additional 15% off. If that's you, be sure to bring your badge or ID for a total of 35% off your entire purchase! If you choose to order online, bring your qualifying ID when you pick up your order and we'll be happy to apply this discount before charging your card.
40% Off Red Tags
Plus, everyone can take advantage of the biggest deals we offer on specially marked Red Tag items, where you'll find a staggering 40% off our already low prices!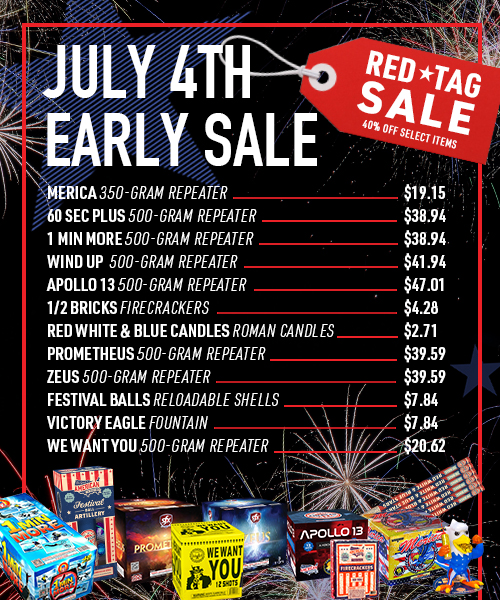 Red Tags available while they last include:
These items are first-come, first-serve and are always extremely popular. Shop early to take advantage of these incredible sale items!
Shop Today!
Now is the best time to void the last-minute July 4th crowds, get the best shopping experience, the best selection, and the best deal possible for your fireworks celebration! Shop in our store in Orange Park, FL or on our website for convenient pickup.