As if Hammer of Thunder was not already amazing enough, SFX Fireworks has completely refreshed this 60-gram reloadable artillery kit for 2018. The previous version contained two each of 12 different effects. Now it features 24 unique, high-quality shells featuring truly premium effects!
Hammer of Thunder at a Glance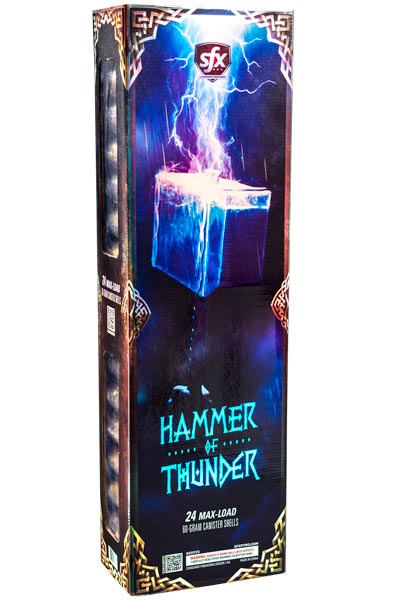 Brand:

SFX Fireworks

Shells/Breaks:

24/24

Category:

Reloadable shells

Mortars Included:

4 Fiberglass

Wholesale Price:

$165.19

Shell Type(s):

Canister

Wholesale Case Qty:

4

Shell Diameter:

1.75″

Retail Price:

$89.21

Avg Height:

120 feet
Effect Descriptions:

Charcoal Palm to Purple and Green Stars
Gold Strobing Willow
Red and Green Crackling Palm
Time Rain Willow
Gold Titanium Willow with Red Strobe
Sea Blue & Lemon Yellow with Red Strobe
Gold Palm with Colorful Stars, White Glitter, and Red Strobe
Red Glittering Willow with Crackle
Gold Willow to Neon Peony with White Strobe
Neon Peony to Crackle
Willow with Strobe
Gold Willow to Green with Gold Strobe
Red, Green, and Blue with Gold Strobe

Teal and Magenta with Gold Strobe
Teal and Yellow Dahlia with White Strobe
Brocade Crown
Crackle
Color Peony and Strobe with Silver Chrysanthemum
Green Glitter, Orange Star, and Sea Blue
Brocade to Crackling Willow with Red and Green Peony
Gold Titanium Willow with Sea Blue and Green Strobe
Neon Multi-Color Peony
Gold Titanium Willow
Charcoal Palm with Red and Blue Stars
Hammer of Thunder Video
Premium Packaging and Effects
We love how the new Hammer of Thunder box looks on the shelf. The full-color, foiled box and gold foil wrapped shells gleaming through the package windows makes it stand out from any other kit. But what we love even more are the three ultra-premium willow shells with gold titanium powder in their effects composition. By adding gold titanium, the willows glisten with gold sparks as they slowly float towards the ground. The three shells that contain titanium include:
Gold Titanium Willow
Gold Titanium Willow with Red Strobe
Gold Titanium Willow with Sea Blue and Green Strobe
These three shells have become our absolute favorite willow style shells of any artillery kit. We are confident once you see them, they will be your new favorite willow shells as well!
Hammer of Thunder vs. Other 60-Gram Kits
We think this is one of the best canister kits on the market today, if not the best. We encourage you to put Hammer of Thunder up against any other 60-gram kit on the market, including the hugely popular Excalibur kit from World Class. Once you do, we think you will agree that the size of the breaks and the quality of the 24 different effects from Hammer of Thunder can't be beat, especially for the price.
Even with the update, we've held both the wholesale and retail price on this amazing kit for 2018. The wholesale price remains at $165.19 before discounts for a case of four, which means you're getting 96 shells for about $1.70 per shell. You can find it here on our wholesale website. For our local retail customers, you'll find these priced at $89.21 each in our store or you can order your fireworks online for pickup.
More New Fireworks for 2018
Be sure to check out the nearly two dozen new products we added to our catalog this year to help make your Memorial Day and 4th of July fireworks shows the best ever. Many of these products were revealed on our blog this past fall as early arrivals and we will continue to highlight more new products throughout the spring. Be sure to follow us on our blog and social media channels for the latest information.
For a complete list of what's new for 2018, wholesale customers can shop the New for 2018 page on our wholesale website. Local customers shopping in our store can see up-to-date pricing and availability on our New for 2018 Retail page.