The biggest shopping season of the year is right around the corner — Black Friday Weekend! That means everything is on sale in our fireworks store in Orange Park, FL Friday, November 27th through Sunday, November 29th. This is your best chance to get huge savings on your New Year's fireworks celebration!
20% Off Storewide
During our Black Friday Sale, everything in our store is at least 20% off! That means your favorite artillery shells, aerial repeaters, Roman candles, and even assortments (yes, we include assortments!) are all at least 20% off.
And remember, our prices are already way better than the places that offer "BOGO" deals, so this extra 20% really takes the savings to a whole new level!
35% Off Storewide for Military, Police, and Firefighters
Plus, we want to honor our military, police, and firefighters with an extra 15% off, giving you a full 35% off storewide! Just bring your ID and present it during checkout and we'll be happy to add this discount for you.
40% Off Red Tags
The biggest deals are specially marked Red Tag items, where you'll find a staggering 40% off our already low prices!
This year, you can find items like:
These items are first-come, first-serve and are always extremely popular. Shop early to take advantage of these incredible sale items!
Black Friday Giveaway
On Friday, November 27th only, spend $50 or more to get a free 200 gram repeater of your choice between Poker Face or America's Battalion while they last!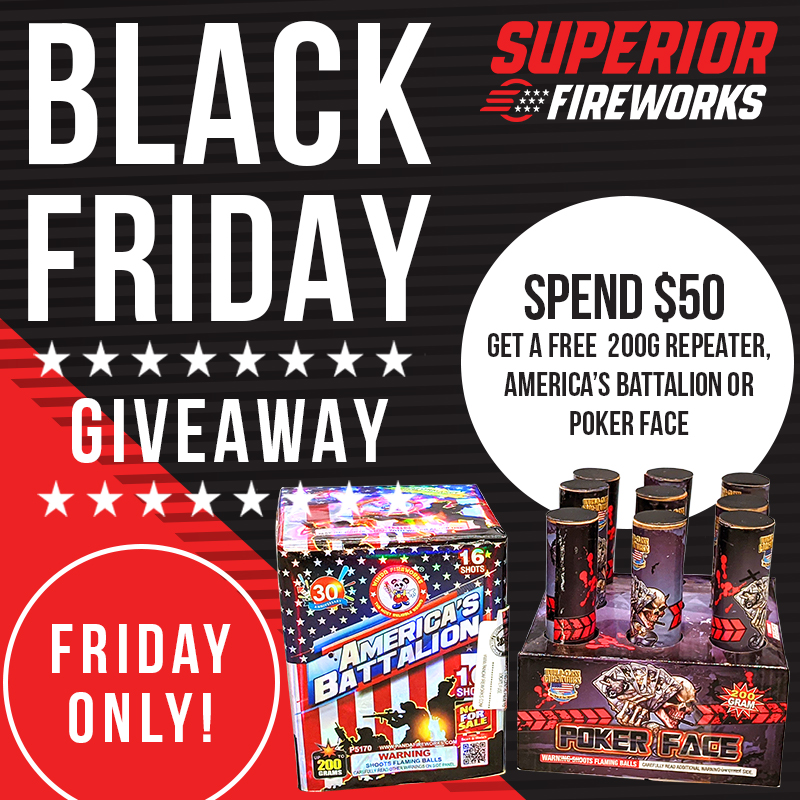 Start Planning Today!
Black Friday weekend is the perfect opportunity to avoid the last-minute New Year's crowds while getting the best deal possible for your fireworks celebration! Shop in our store in Orange Park, FL or on our website for convenient pickup.
Visit our website to plan your Black Friday fireworks shopping today!