Memorial Day is right around the corner! That means everything is on sale in our fireworks store in Orange Park, FL. Stop by anytime Friday, May 28th, through Monday, May 31st to get awesome savings on all your favorite fireworks!
20% Off Storewide
During our Memorial Day Sale, everything in our store is at least 20% off! From artillery shells and aerial repeaters, to Roman candles, and even assortments, we mean everything!
And remember, our prices are already way better than the places that offer "BOGO" deals, so this extra 20% really takes the savings to a whole new level!
35% Off Storewide for Military, Police, and Firefighters
Here at Superior Fireworks, we want to honor our military, police, and firefighters with an extra 15% off, giving you a full 35% off storewide! Just bring your ID and present it during checkout and we'll be happy to add this discount for you. If you choose to order online, bring your qualifying ID when you pick up your order and we'll be happy to apply this discount before charging your card.
40% Off Red Tags
The biggest deals are specially marked Red Tag items, where you'll find a staggering 40% off our already low prices!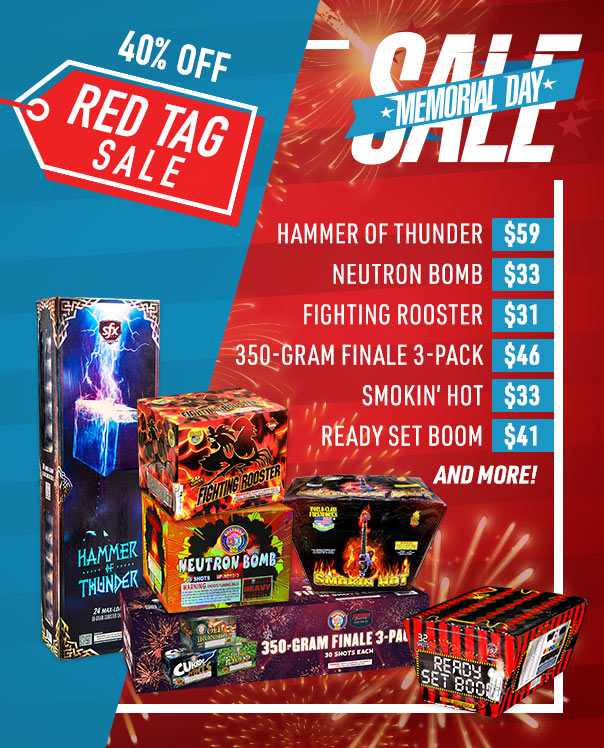 These items are first-come, first-serve and are always extremely popular. Shop early to take advantage of these incredible sale items!
Immortals + Color Rush Combo Deal!
All Memorial Weekend, keep an eye out for our Immortals + Color Rush Combo Deal! For only $160, you can get five of our hardest hitting 500-gram repeaters; this normally would cost you $238.67!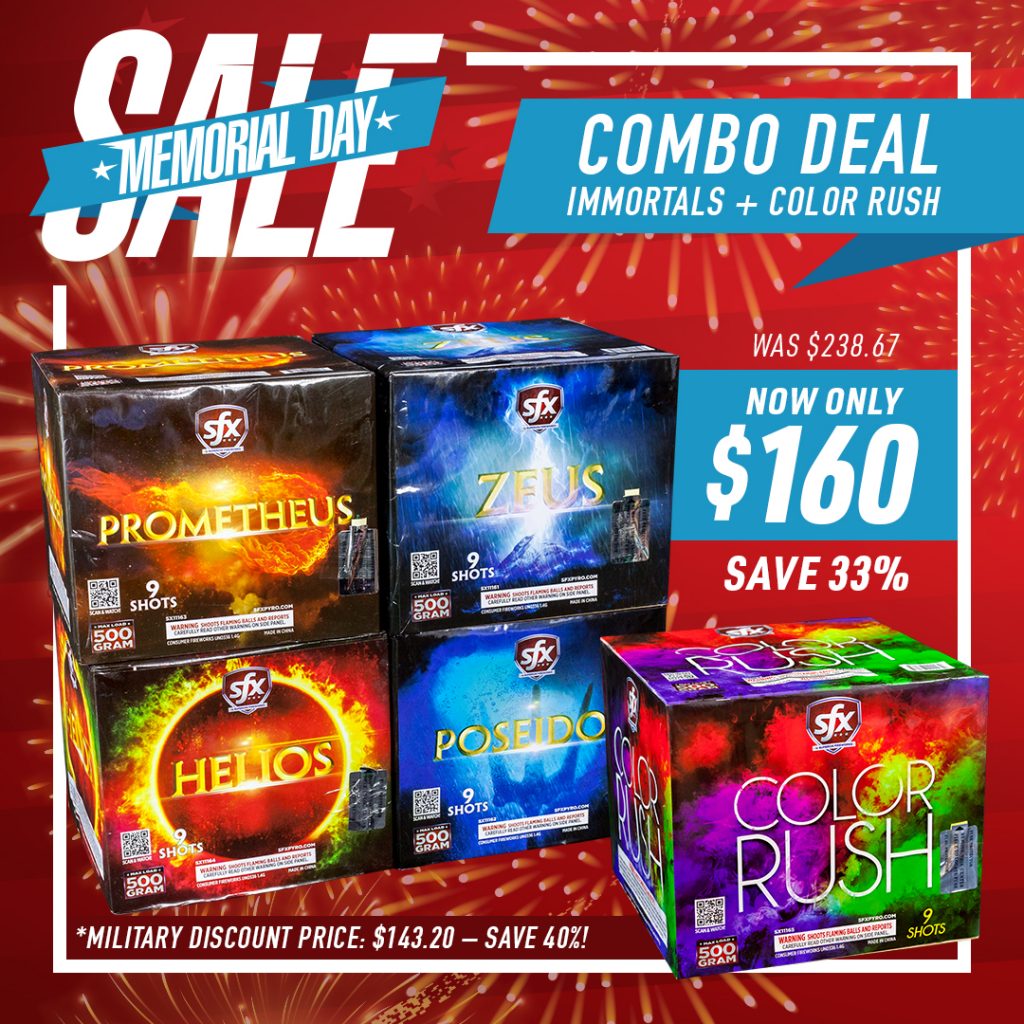 Start Planning Today!
Memorial Day weekend is the perfect opportunity to avoid the last-minute July 4th crowds while getting the best deal possible for your fireworks celebration! Shop in our store in Orange Park, FL or on our website for convenient pickup.
Fireworks inventory is low nationwide, so this is the perfect opportunity to SHOP EARLY to pick up your favorites at the best prices of the season.
Visit our website to plan your Memorial Day fireworks shopping today!