Yes, it's that time of the year. Our retail doors are open. Our best-selling fireworks line our shelves and we're ready for the biggest day of the year!
Each July 4th season we launch our list of best selling fireworks to show you which products our customers love and to give you some direction if you're making decisions on what you want to buy this year.
Each of the fireworks on this list has a solid reputation with our customers. You really can't go wrong with anything you see here.
So far, 2017 has been a banner year for SFX Fireworks — seven of the top-10 best sellers of 2017 are SFX products.
#10: Countermeasures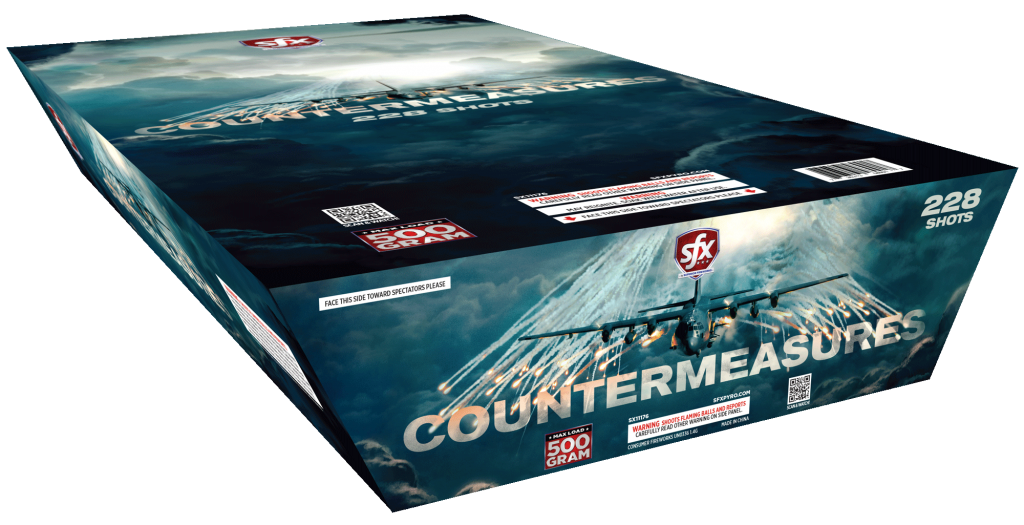 Countermeasures starts out our top 10. The cake fires off multiple volleys of tails-to-crackle, stars and, at the end, some really strong breaks.
It's a zipper, meaning it fires a lot of smaller, faster shots in a back-and-forth Z pattern, but it offers a more moderate pace and greater variety than most others of this type.
We also recommend combining Countermeasures with Majestic Brocades for an awesome finale.
#9: Finish Strong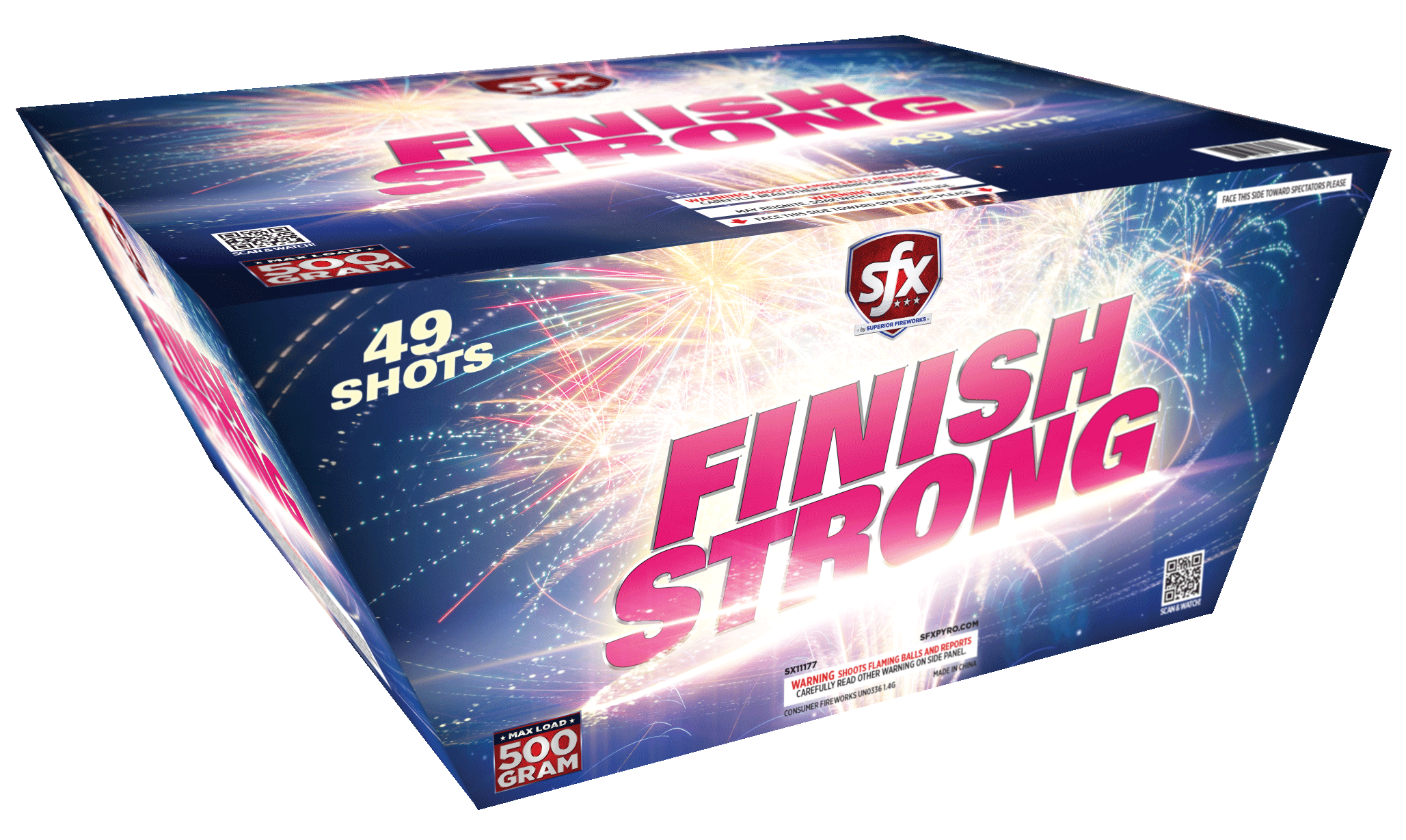 Another 500-gram repeater from SFX, Finish Strong is designed to be a powerful finale cake because of the diversity of effects you get through its 45 shots, as well as the big chrysanthemum break you get in Finish Strong's fifth and final volley of nine shots.
#8: Patriotic Fanfare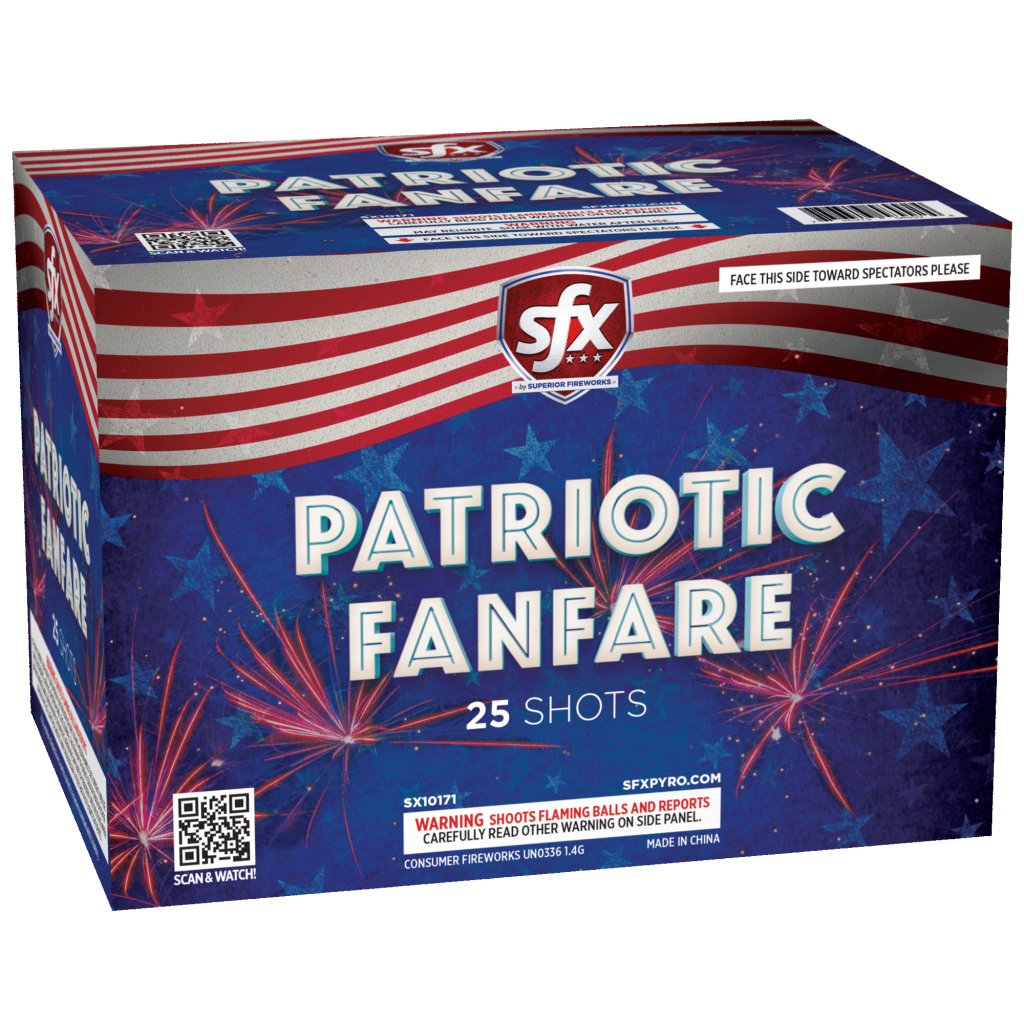 Patriotic Fanfare lives up to its name with an impressive series of effects for a 350-gram repeater. Mines, tails, color stars and crackle — this cake has them all.
While Patriotic Fanfare doesn't pack quite the punch offered by the larger 500-gram repeaters on this list, at $16.97 it is one of the absolute best values you'll find on our shelves.
#7: Comet Storm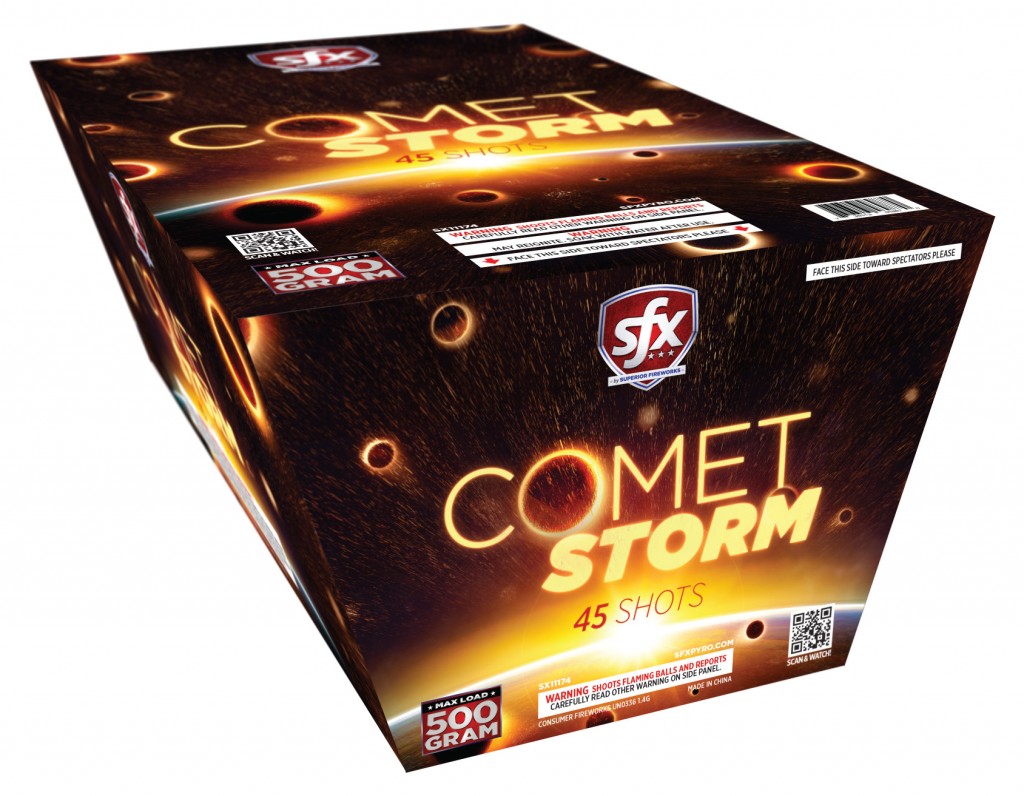 If you want your July 4th stash to feature new products as well as old favorites, Comet Storm is a great place to start.
It's a 500-gram repeater from SFX and is fast becoming a customer favorite because of its quick pacing and 45 shots of comet tails, crackling mines and brocades.
#6: Vendetta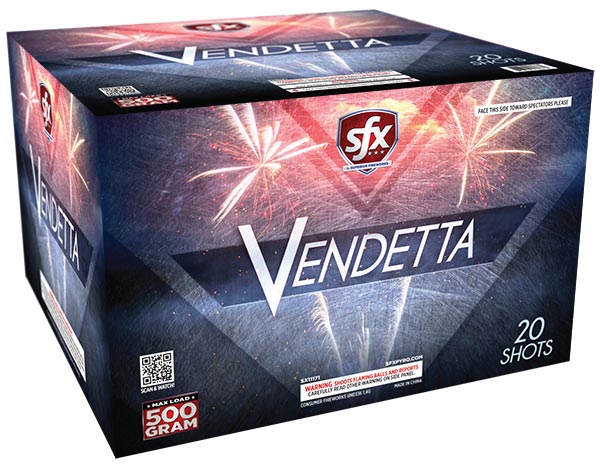 Vendetta is a strong favorite because each volley is like a show within a show — you get altitude variation with low- and mid-level mines and a pair of angled aerial breaks.
This product is definitely one of SFX's stronger 500-gram repeaters and, with the variation you get in each five-shot volley, it's one of the better values among our premium-grade fireworks.
#5: Knock Out Assortment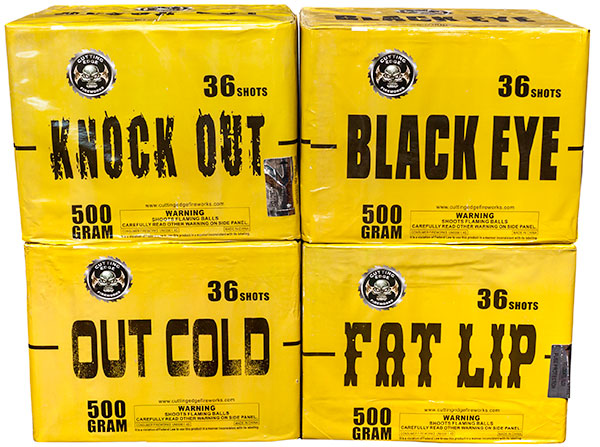 Cutting Edge's Knock Out Assortment is one of three items on our best-seller list for the second year in a row — last year it was #3.
Here's what one customer said this past July about Knock Out:
"Bought this assortment to be filler between featured cakes in a show. Turns out that it was listed in the end as crowd favorites. This assortment has a nice rhythm with a nice range of effects."
#4: Spirit of America

Spirit of America finished just outside the top-three this year, a fact that we find pretty interesting for a couple of reasons.
First, Spirit of America is product from The Great American Fireworks Co., a newcomer to the market who specializes in selling classic, vintage-themed products to consumers looking for a good mix of value and quality. The products are fantastic and our customers have responded really well to it.
Second, SoA is an assortment pack of 12 200-gram repeaters. Our list is usually filled with 500-gram cakes and canister shells, but we knew there was an opportunity in our product line for a nice 200-gram assortment and apparently our customers agreed.
When we decided to pick this up in the fall, we told ourselves, "This one is going to be on nearly every order."
We ordered a bunch. It was on nearly every order.
#3: Hammer of Thunder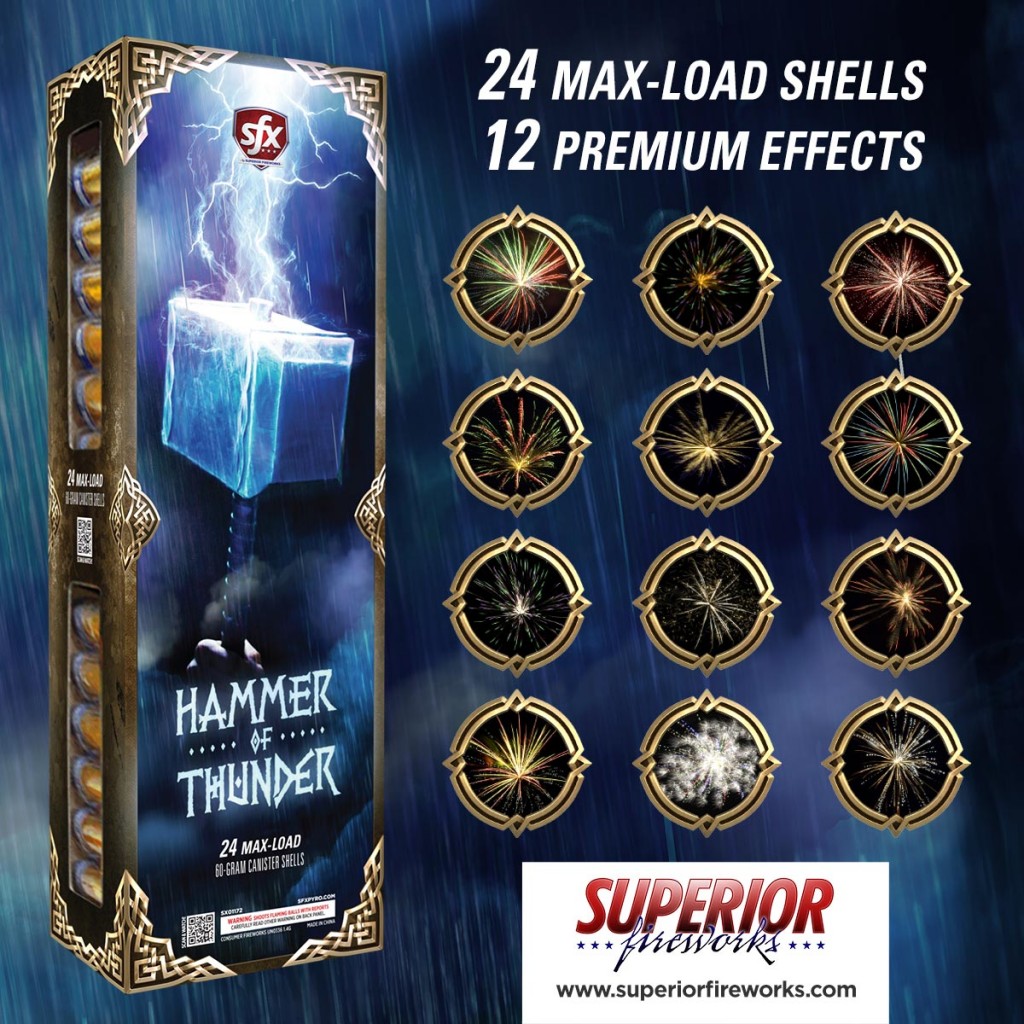 SFX's Hammer of Thunder is a newcomer to our Top-10 list and has performed really well since wholesale sales started to pick up in February.
Hammer of Thunder is SFX's answer to other max-load shells on the market: 60-gram canisters with effects and report that make a serious argument for best canister shells of 2017.
Our customer Darrel recently commented on our blog post introducing Hammer of Thunder, "They smash the Excalibur."
#2: Color Rush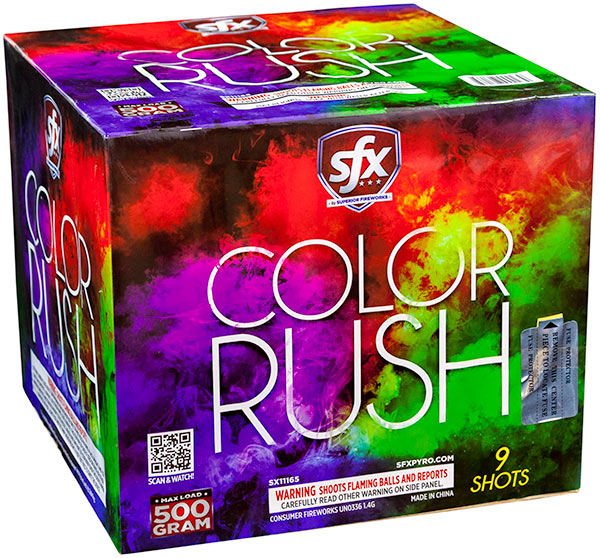 One of 2016's favorites from SFX Fireworks, Color Rush is a hard-hitting 9-shot, 500-gram repeater known for its bright colors and powerful 3-shot finale.
Color Rush was #7 on the 2016 best-seller list, making it the first SFX cake to repeat two consecutive years.
#1: Excalibur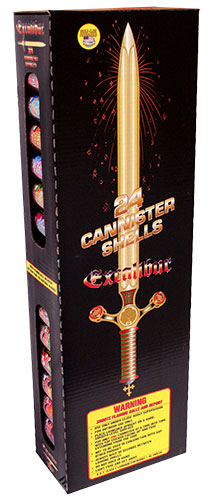 World Class Fireworks Excals are, year-in and year-out, one of the most popular fireworks in our store and across the nation.
These 24-pack, 60-gram artillery shells are well-known for consistent performance, big breaks and quality report and effects.
That's why Excalibur is a consistent best-seller year after year.
Honorable Mention: Immortals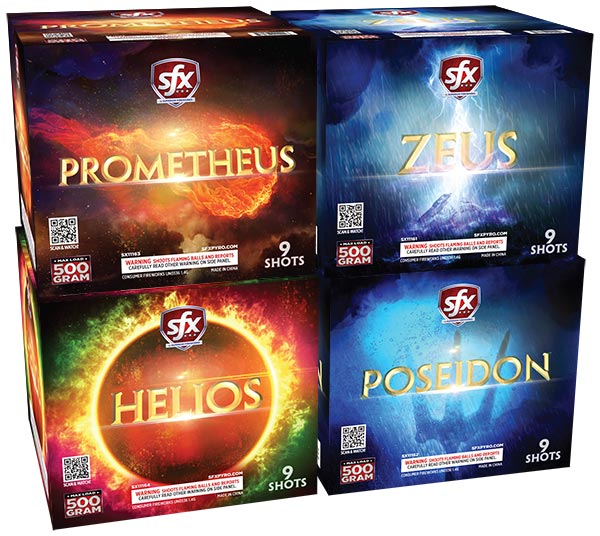 Immortals is a great set of 4 powerful, 9-shot 500-gram repeaters, which made it one of last year's best sellers.
It would have easily finished in the best-seller list this year but, after selling out in a few months, there was an unexpected shipping delay for our 2017 restock.
Here's the good news, though: It arrived today, so there's still time for retail customers and most east coast wholesale customers to get it.
Store Hours and Shipping Deadlines
Our retail store is now open for business! Come in from:
9 a.m. – 6 p.m. today through July 2
9 a.m. – 8:30 p.m. on July 3
9 a.m. – 7:30 p.m. on July 4.
Also, most wholesale customers east of the Mississippi River can still get their orders in by 3 p.m. ET today.
The deadline for most of Florida and some parts of Georgia, Alabama, South Carolina and North Carolina is tomorrow by 3 p.m. ET.
Check the shipping map on our Wholesale home page just to be sure or give us a call at 904-213-0615.