Editor's Note: Hammer of Thunder has been completely refreshed for 2018. For the most up to date information on this hard hitting artillery shell kit, see our updated blog post.
All you have to do is watch the video below to understand why SFX calls its new 60-gram artillery kit "Hammer of Thunder."
The footage you're about to see and hear is evidence enough to prove that this new product will give even the most tried-and-true artillery kits a run for their money.
Hammer of Thunder: 24 Max-Load, 60-Gram Canister Shells
Unboxing your Hammer of Thunder kit will reveal 24 shells and four premium fiberglass firing tubes. As you look at the effect listed on each of the gold-wrapped shells, you'll notice that you actually get 12 pairs of effects.
Here's a list of those effects: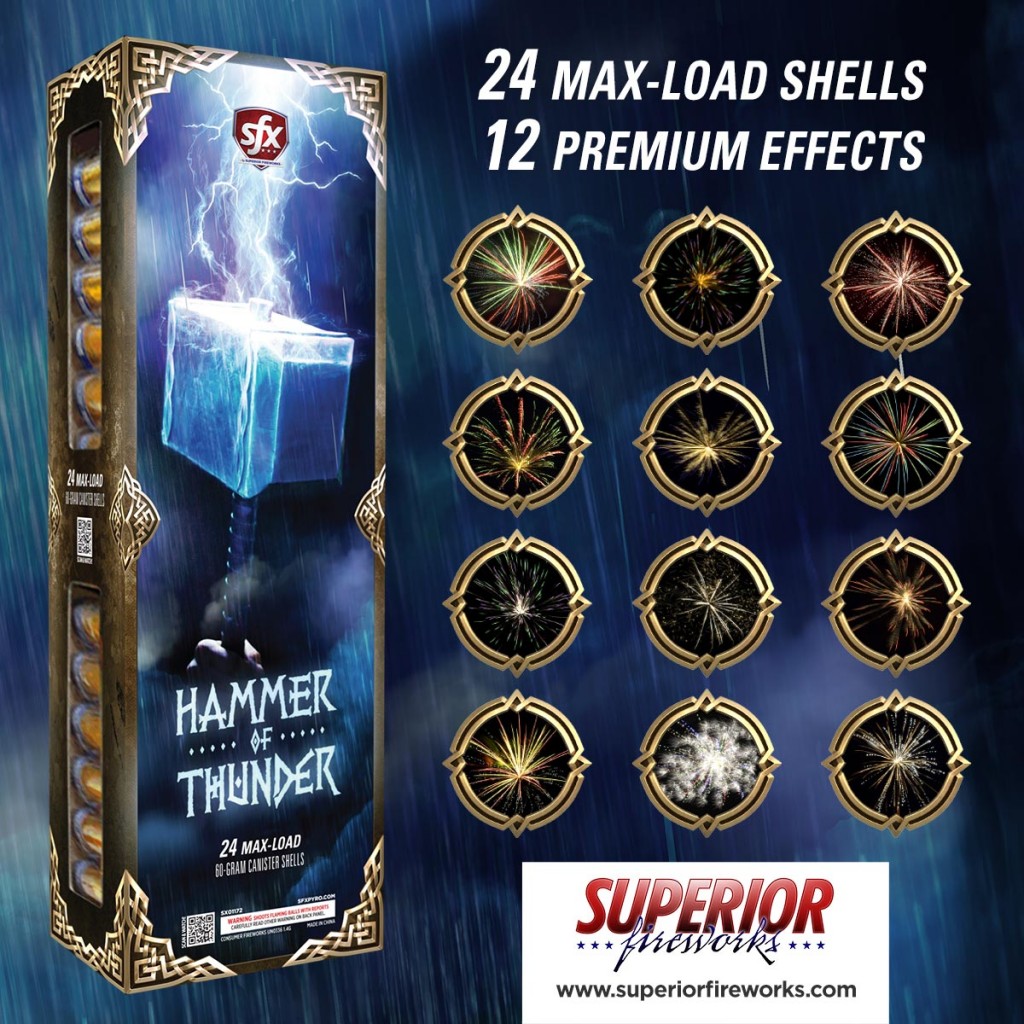 Red and Green Peony with White Strobe
Brocade and Blue Star
Silver Wave to Red and White Strobe
Silver Crackling Palm
Charcoal Palm to Purple and Green
Color Strobe and Silver Chrysanthemum
Red and Green Palm
Color Peony
Silver Wave to Green and Purple Stars
Brocade to Red
Peach Red, Lemon, and White Strobe
Brocade and White Strobe
Hammer of Thunder Video
You'll see this strong mix of effects in the video below, accentuated by powerful reports:
Premium Performance at a Value Price
We've set the wholesale price point of this shell kit at $165.19 before discounts for a case of four, which means you're getting 96 shells for about $1.70 per shell. You won't find a better value for this level of performance and high-quality effects. You can find it here on our wholesale website.
For our local retail customers, you'll find these priced at $89.21 each in our store. You can order your fireworks online for pickup, or stop by when we open to the public in a few short weeks.
More New Products for 2017
We're closing in on July 4th and, if you haven't already done it, you need to head to our wholesale site and check out our New-for-2017 product page.
We've got all kinds of cakes, shells, fountains and novelties from familiar names like Cutting Edge, World Class, Brothers, Winda and SFX, plus some amazing new products from The Great American Fireworks Co.