Originally scheduled to be added to our product line in the spring of 2018, Home Run has arrived early and is available now at Superior Fireworks. This 68-shot, 500-gram repeater from Cutting Edge features a rapid-fire display of crackling mines and colorful falling leaves.
Home Run at a Glance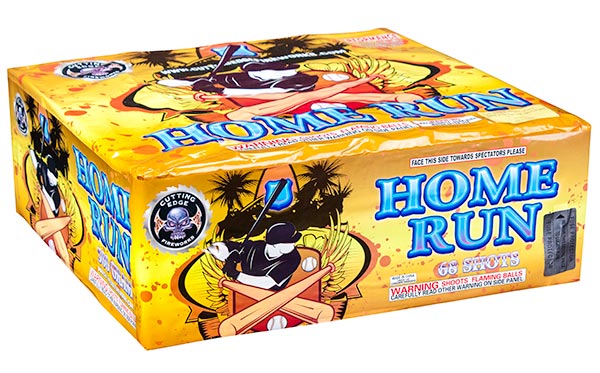 Brand:

Cutting Edge

Shots:

68

Category:

500-Gram Repeater

Duration:

13 Seconds

Wholesale Price:

$90.85

Avg Height:

130 Feet

Wholesale Case Qty:

2

Colors:

Red, Green, Silver

Retail Price:

$76.30

Angle:

Effect Description:
Crackling mine, white glitter, red and green falling leaves, crackling white glitter
Home Run Video
Knock it Out of the Park
Repeaters with falling leaves are typically more subdued, but Cutting Edge has bucked that trend with Home Run. This repeater furiously fires crackling mines that lead up to a beautiful, wide barrage of red and green falling leaves. The performance ends with crackling white glitter which really puts an exclamation mark on this exciting firework.
Consider using this item to start the show–it will really get the crowd's attention.
Home Run is available for just $76.30 each at retail or $90.85 for a case of two at wholesale.
More Early Arrival Fireworks for 2018
There are a lot more 2018 early arrivals to be excited about, such as Incendiary Rounds, a 12-shell reloadable kit from The Great American Fireworks Co., and Nighttime Spectacular, a 500-gram repeater by SFX Fireworks.  We are also currently drafting articles for a new 750-shot color Saturn Missile Battery from The Great American Fireworks Co. and Full Bore, a new Roman candle set by SFX Fireworks.
For a complete list of 2018 early arrivals, retail customers can shop the New for 2018 Retail page and wholesale customers can visit our New for 2018 Wholesale page.  Even more early arrivals are expected in time for New Years, so check back regularly for the latest updates!