In just a few weeks it will be time to say farewell to 2017 and hello to 2018. As such, we want to remind our wholesale customers to place their firework orders in time to ring in the New Year with appropriate fireworks flare. We also have exciting product news to share including 2018 early arrivals and several customer favorites coming back in stock soon.
New Year, New Fireworks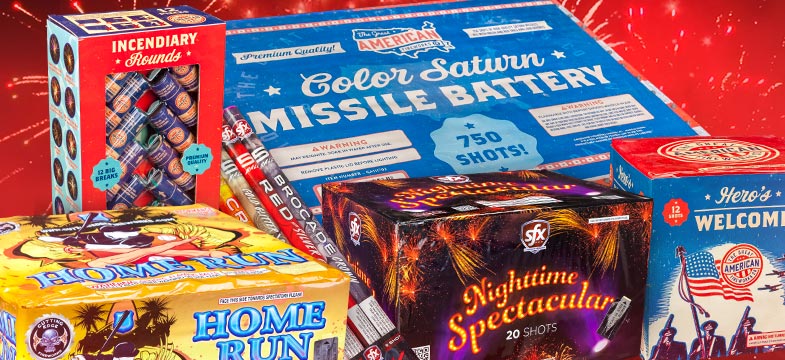 It has been an exciting fall for fireworks fans as several new items originally slated for a spring 2018 release have arrived early. The following 2018 items are currently in stock and ready for immediate delivery:
Back in Stock in Time for New Year's
We are pleased to announce several customer favorites will be available before New Year's. These items were in high demand during the 4th of July season and sold out quickly. We have received target arrival dates for these items and have made the products available for pre-order on the wholesale website.
Please be aware that any order with pre-order items will not ship until the pre-order items arrive on the dates listed below. Customers with specific scheduling requirements should contact our sales staff to ensure orders are shipped in time for New Year's delivery.
Expected on 12/8

Comet Storm is 45-shot, 500-gram repeater. Comet Storm blasts 5 rows of 9 shots, filling the sky with crackling mines, comet tails with purple and green stars, and large brocades with glitter!
Powerful, max-load canister shells that will definitely leave an "echo in the ear!" Effects include huge brocades, color breaks, glitter, crackle, and more!
Escape Velocity is a 30-shot, 500-gram repeater and fires 6 fan-shaped volleys, each with 5 shots. It features multi-color mines and glitter to colored palms and dahlias with silver comet tails!

Expected on 12/12

Vendetta is 20-shot, 500-gram repeater and delivers four powerful volleys of layered effects. Each volley fires three shots of low-level and mid-level mines, plus two angled shots with massive aerial breaks. Effects include brocade crown, red and blue strobe, gold crackle, and blue stars with silver palm.

Expected on 12/20

Updated for 2018! Hammer of Thunder delivers 24 of the most powerful canister shells on the market, including 24 assorted effects with massive breaks.
New Year's Ordering Deadlines
FedEx Freight has a modified service schedule during the Christmas and New Year's seasons, which impacts ordering deadlines for our customers. We have taken the guess work out of when orders need to be placed to ensure delivery before New Year's in the graphic below. The cutoff dates for orders are earlier than last year, so please review the dates carefully. Remember, if in doubt, we recommend working closely with our sales staff to ensure orders are shipped in time for New Year's delivery.

For more information on our shipping policies, please review our wholesale shipping page. As a reminder, we do have a $1,000 order minimum for wholesale orders, including shipping and sales tax. Customers located in Florida or Georgia can also schedule a pickup for wholesale orders at our warehouse.
Not a Wholesale Customer?
We are also excited to announce that retail customers can shop our brand-new, 5,000-square-foot fireworks store located in Orange Park, FL. We will post an article about our new store, including hours of operation during the New Year's rush, within the next few days.