As we get closer to the 4th of July, we're getting more and more excited about all of the new fireworks we can't wait to shoot off with friends and family. This year, we are especially excited about the new items we have in stock from Brothers Pyrotechnics. We've carried the Brothers brand since nearly the very beginning of our company almost 20 years ago. In all that time, we've always found them to offer consistently high-quality products that deliver great performance, so we're happy add to them to our catalog.
This year, we've brought in nearly a dozen exciting new items from Brothers. Some are new to us, and some are entirely new to the market. Here's a quick rundown of what you have to look forward to.
Ten-4
Ten-4 is a 200-gram repeater with a lot of punch that gives you a lot of variety and color. It opens with big aerial breaks, but then gives you a unique display of comet effects before finishing with a 3-shot finale. You'll love the willows, glitter, and crackling throughout its 30-second, 38-shot performance.
Brothers Choice
Brothers Choice is a collection of 4 of Brother's best 350-gram repeaters, all with 16 shots: Regal, Imperial, Sovereign, and Majestic. These hard-hitting repeaters are an excellent choice for a mixed set and last about 30 seconds each.
Game Over
Game Over has so much to offer in a 350-gram package. You get low-, mid-, and high-level effects, including V-shaped comets to aerial breaks for complete sky coverage!
Rolled Gold
Unlike a lot of 500-gram repeaters that try to do as much as possible in a single item, Rolled Gold specializes in one thing — gold brocades. It gives you 48 steady-firing shots of gold brocade mines to gold brocades, finishing with a 6-shot finale.
Hit the Road, Jack
We're including Hit the Road, Jack here as almost an honorable mention, because it sold out really fast this season. Not to worry, it'll be back, and we'll have more next time. If anything, though, that tells you how popular this item is and reinforces the fact that you need it!
Sassy
Sassy is truly unlike any other item we offer, firing 600 shots in under 25 seconds! This wall of fire is a perfect low-level effect for a finale, or really any part of a show where you want to add some extra energy. We think of it like strapping together a bunch of Roman candles, but without all the work. Light one fuse, and off it goes!
350-Gram Finale 3-Pack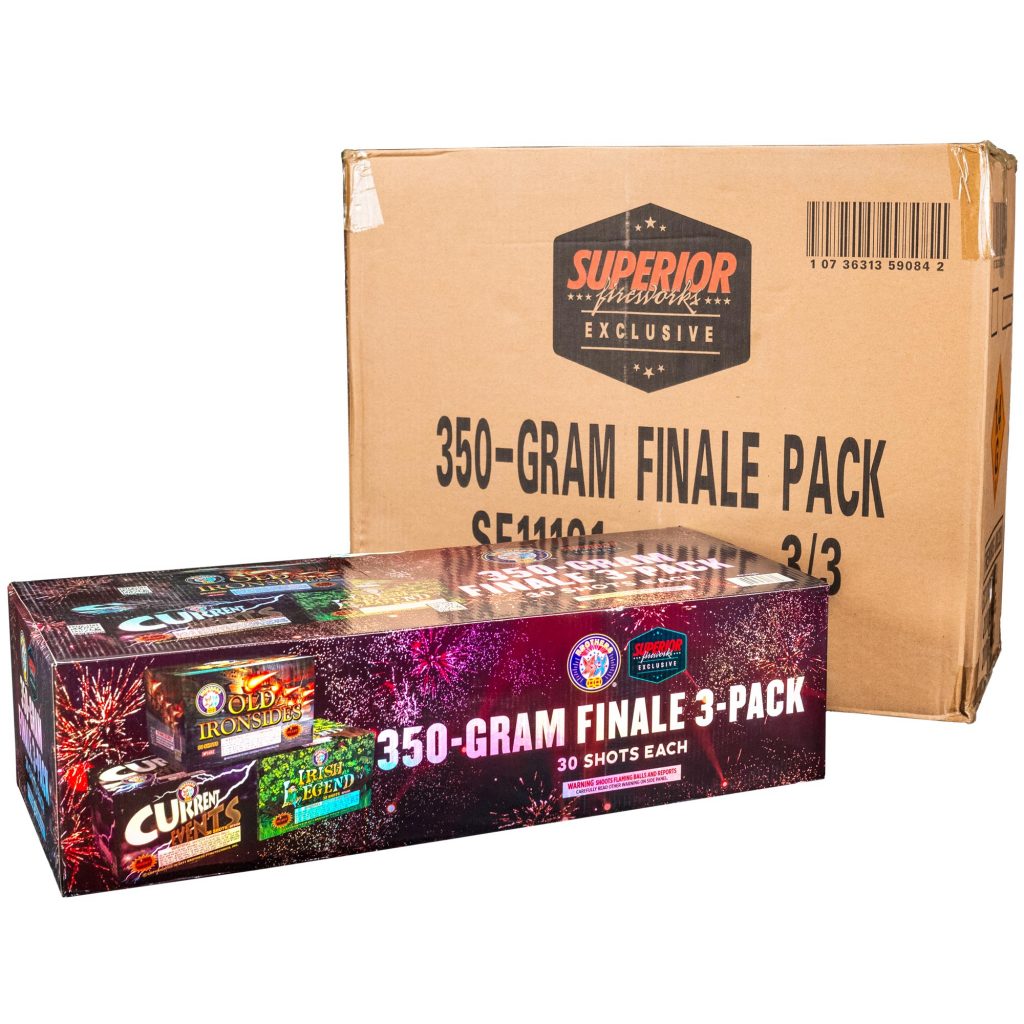 We're extremely excited about this new 350-Gram Finale 3-Pack, offered exclusively here at Superior Fireworks. We partnered with Brothers to take three of their most popular 350-gram repeaters and package them together, giving you great variety and performance in one fantastic-looking set. The 3-pack includes Current Events, Old Ironsides, and Irish Legend.
And More!
These are just a few of the nearly dozen new items we have to offer from Brothers this year. Beyond that, we have an awesome line-up of new products from Shogun, SFX Fireworks, The Great American Fireworks Co., and others. See the complete selection of new fireworks on our website and start shopping today!