It's time to start planning your New Year's Eve fireworks spectacular to ring in 2019! We have lots of information to share with you about this New Year's fireworks season, so read on to find out about new products, order cutoff dates, and more.
New-for-2019 Products Make an Early Landing
We are excited about several new items for the 2019 season that will be available for New Year's. Be one of the first to shoot these great new fireworks! Some products are available to purchase now and others will arrive mid-December.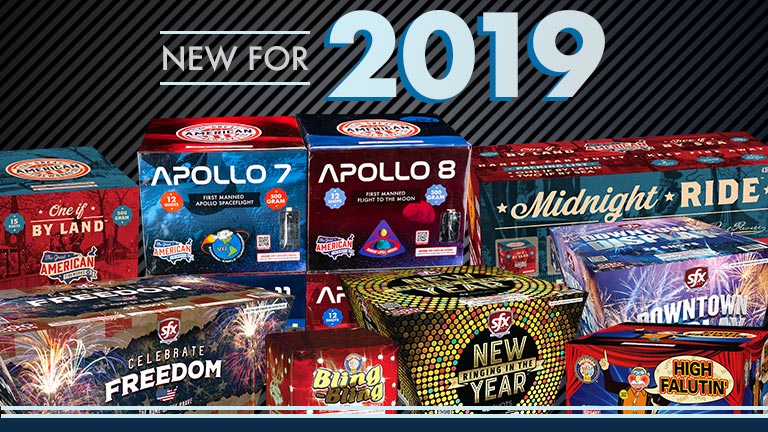 Available Now
Apollo: a mixed case set of four hard-hitting, 12-shot, 500-gram repeaters from The Great American Fireworks Co. Each repeater features everyone's favorite firework effect, the willow.
Downtown Display: a 24-shot, 500-gram repeater from SFX Fireworks. Features a Z pattern of 12 gold comet tails to brocades with red, green, and blue stars, followed by blasts of brocade mines to glittering peonies with colorful stars.
Bling Bling: a 36-shot, 200-gram repeater from Brothers. Starts with several barrages of whistling snakes and fish with purple, red, blue and white stars. That's followed by red and green bouquets with time delay crackle and a 6-shot finale of crackling palms.
High Falutin': a 49-shot, 500-gram repeater from Brothers. Fires a display of red, green and blue tails to red, green and blue bouquets, alternating with silver, gold and purple tails to silver glitter, gold willows or crackling. Crackling comet tails are followed by a 14-shot finale of crackling tails to crackling flowers.
Expected Mid-December
Celebrate Freedom: A 42-shot, 500-gram repeater from SFX Fireworks. It features multi-layered mine effects including gold crackle and glitter with red, white, and blue stars. This is followed by comet tails to aerial breaks of gold brocades with glitter and chrysanthemum crackle.
One If by Land: A hard-hitting, 15-shot, 500-gram repeater from The Great American Fireworks Co. that fires fine, golden palms with touches of green strobe, crackling, white strobe, and sky blue stars.
Midnight Ride: This set combines the new 500-gram repeater One If by Land with Two If by Sea, completing the famous tale of Paul Revere!
Ringing in the New Year: A 42-shot, 500-gram repeater from SFX Fireworks. It fills the sky with angled shots of red and blue with white glitter, followed by mine bursts of swirling, whistling tails with red, green, and blue stars to aerial breaks of pink, purple, and green with gold crackle. It finishes with sizzling red, green, and blue palms.
Your Favorites Back in Stock
Several of your favorite fireworks are on the way and should be in stock the week of December 9th. This includes Amped Up, Biggest and Brightest Assortment, Bold City, Firearm, Funky World, Jet Screamer, Mother of All Bombs, and Smokin' Hot. Any other item not listed here and currently out of stock on our website will not be available until after New Year's.
5-Minute Salute to Midnight Video
Get in the New Year's fireworks spirit by watching our 5-minute fireworks show, "Salute to Midnight." We posted this show idea last year, but we finally had a chance to get out and shoot it ourselves. This display is a great example of a fast-paced, loud show to help ring in the New Year. You can read all the details about the show here.
Wholesale Shipping Cutoffs for New Year's Eve Delivery
To make sure your order arrives in time for your New Year's celebration, please order by the following cutoff dates. If you are unsure exactly where you are located on the map below, please give us a call at 904-213-0615 and we will verify your cutoff date and time based on your zip code. For additional information about shipping, please see our shipping page.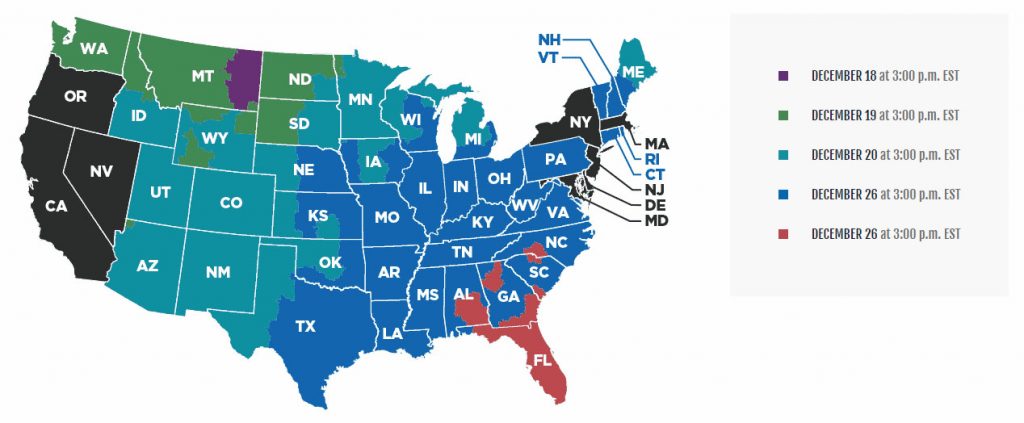 Don't Wait Until the Last Minute
Start building your New Year's fireworks order now! Shop our wholesale fireworks website to get first pick of our newest products, lock in your favorites, and make sure your order arrives in plenty of time to put your show together.
If you're shopping locally at our retail store in Orange Park, FL, visit our retail fireworks website to see all of our products and what's on sale for the New Year's season. Shop early for the best deals!