SFX Fireworks has covered a lot of ground in just four years, quickly becoming our best-selling brand by focusing on quality over quantity to bring you premium fireworks with incredible performances. This year will be no different — you are going to love what SFX Fireworks has launched for 2019!
Three sensational new 500-gram repeaters
A complete overhaul of the extremely popular SFX Magnum Artillery ball shell kit
An entirely new product lineup of show-quality fireworks called SFX Show Line
500-Gram Repeaters
We introduced these three new 500-gram repeaters from SFX Fireworks in December as early 2019 arrivals. We are always excited when we can release new items to you earlier than expected. All three of these fireworks have already been extremely popular, so order them soon to secure them for your upcoming shows!
Celebrate Freedom
Celebrate Freedom features multi-layered mine effects including gold crackle and glitter with red, white, and blue stars; followed by comet tails to aerial breaks of gold brocades with glitter and chrysanthemum crackle. Celebrate Freedom is available for just $109.29 at wholesale or $48.79 in our retail store.
Downtown Display
A Z pattern of 12 gold comet tails to brocades with red, green, and blue stars, followed by blasts of brocade mines to glittering peonies with colorful stars. You can read our full write up on Downtown Display here. Downtown Display is available for just $99.75 at wholesale or $46.41 at retail.
Ringing in the New Year
Ringing in the New Year fills the sky with angled shots of red and blue with white glitter, followed by mine bursts of swirling, whistling tails with red, green, and blue stars to aerial breaks of pink, purple, and green with gold crackle before finishing with sizzling red, green, and blue palms. You can read our full write up on Ringing in the New Year here. Ringing in the New Year is available for just $109.29 at wholesale and $48.79 at retail.
SFX Magnum Artillery
This popular 1.75″ ball shell kit features 12 shells with unique effects and has been completely revamped for the 2019 season. Every effect has been reviewed and upgraded as part of SFX Fireworks commitment to provide the highest quality effects possible in their products. The price of SFX Magnum Artillery remains unchanged for the updated 2019 version, just $142.75 at wholesale and $25.95 at retail. The new list of effects includes:
Red, White, and Blue Peony
Blue Stars to White Strobe
Purple Stars with Green Strobe
Red Strobing Willow
Silver Crackling Chrysanthemum
Red to Green Peony
Green Strobe with Red Crossette Pistil
Gold Willow
Gold Brocade to Green Stars
Green Strobing Willow
Colorful Peony with Crackle
Blue Stars with Red Crossette Pistil
SFX Show Line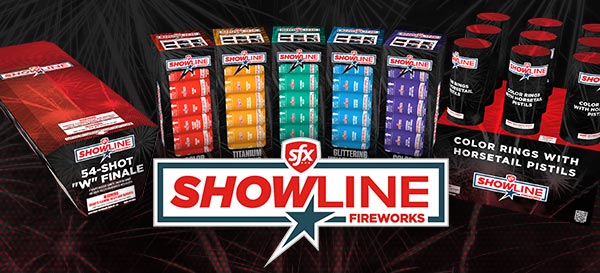 The biggest news from SFX Fireworks this year is the introduction of SFX Show Line. SFX Show Line focuses on delivering high-quality products specifically designed to take your shows to the next level. New products include two premium 500-gram repeaters, an amazing Titanium Willow artillery kit, and four color-matched, reloadable comet and mine kits. You can read all the details about the exciting new SFX Show Line product line here.
Other New-for-2019 Items
SFX Fireworks makes up just a few of the new fireworks for you to consider for your upcoming 2019 Memorial Day and 4th of July shows. Be sure to check out the many other sensational new products on our wholesale site here. Or if you are a retail customer, you can shop the new items on the retail site here to plan your visit or order online for pickup in our store!