Hero's Welcome is a 12-shot, 500-gram repeater featuring a unique I-V-W firing sequence and is sure to be a 4th of July favorite with it's red and blue breaks accented with silver and gold glitter.  This item is a 2018 early arrival from The Great American Fireworks Co. and available now at Superior Fireworks.
Hero's Welcome at a Glance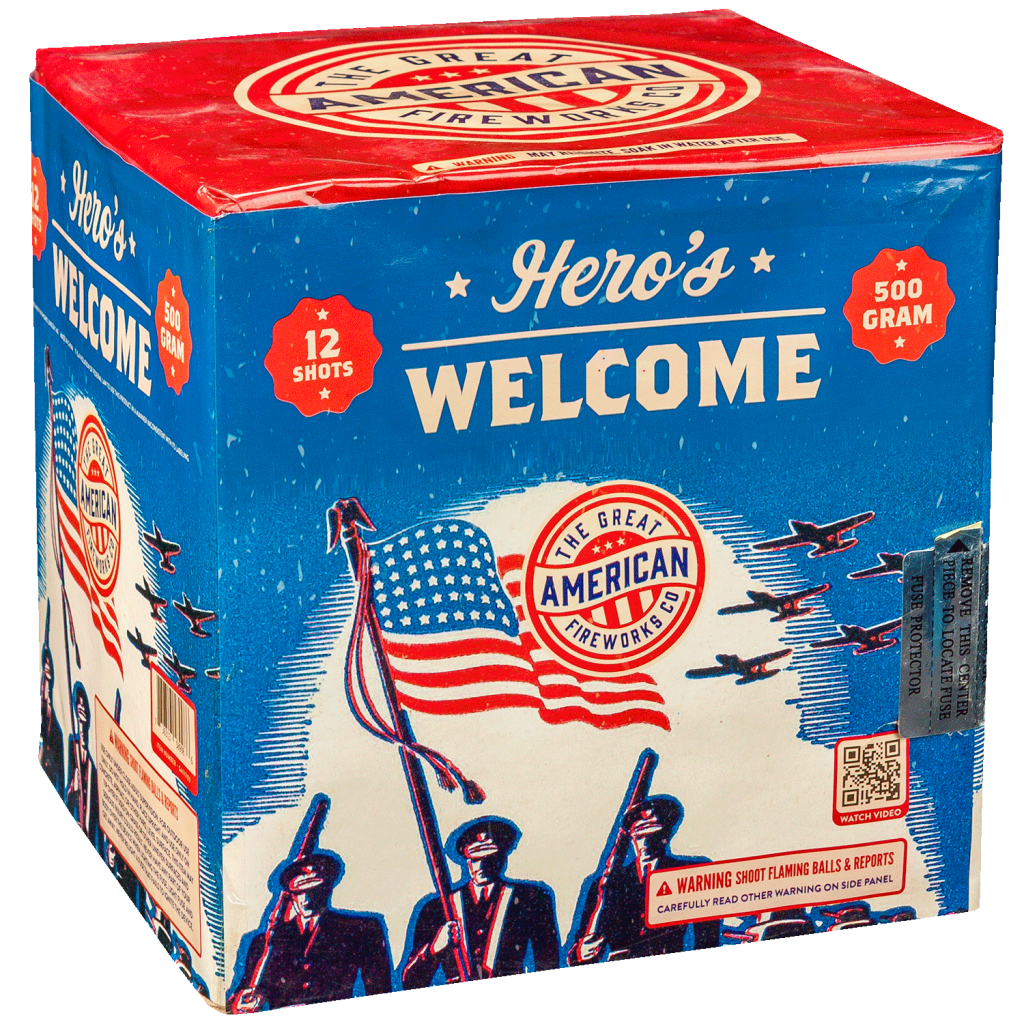 Brand:

The Great American Fireworks Co.

Shots:

12

Category:

500-gram repeater

Duration:

15 seconds

Wholesale Price:

$72.37

Avg Height:

125 feet

Wholesale Case Qty:

6

Colors:

Red, Blue, Silver and Gold

Retail Price:

$26.12

Angle:

Effect Description:

Hero's welcome delivers 12 shots in a repeating I-V-W sequence. One red peony with silver glitter, two blue peonies with gold glitter, three brocade crowns, all with golden tails.
Hero's Welcome Video
Welcome This Hero to Any Celebration
The Great American Fireworks Co. continues to deliver outstanding products at amazing prices and Hero's Welcome is no exception. The unique I-V-W firing sequence of one red peony break followed by two blue peony breaks and then a spectacular trio of brocade crowns makes this a great item to use as the start or finish to a patriotic themed show. The time between breaks is brisk and the second red peony break on top of the first salvo of brocades is an unexpected pop of color at just the right moment. This 500-gram repeater is priced at just $26.12 each at retail or $72.37 for a case of six at wholesale.
More Early Arrival Fireworks for 2018
For more information on 2018 early arrivals, be sure to read about Incendiary Rounds, a new 12-shell reloadable kit from The Great American Fireworks Co. More early arrival posts are coming soon for items such as Nighttime Spectacular, a 500-gram repeater by SFX Fireworks and a new 750-Shot Color Saturn Missile Battery by The Great American Fireworks Co.
The full list of 2018 early arrivals is available on our website with more products expected before New Year's. To make it easier to view all the new arrivals, retail customers can shop the New for 2018 Retail page and wholesale customers can visit our New for 2018 Wholesale page.